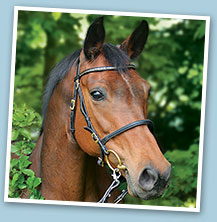 Press room
2008-2003 press releases
Posted: 01/02/05
CHARLIE STILL TOPS THE BILL
Petplan Equine has revealed the country's most popular horse names, and the UK's most commonly used names haven't changed much since 2002.
Charlie is still the UK's odds-on favourite, but Holly has slipped out of the top 10 and Monty has taken the number 10 spot.
Top 10 Horse Names
Charlie
Rosie
Jack
Molly
Murphy
Harry
Max
Sam
Ben
Monty
Gyles Haverty of Petplan Equine says, "Its amazing that as time goes on, horse owners still have a place in their hearts for the names that have reigned supreme for the last 2 years. Maybe horse owners will begin to name their friends something different to break the trend, only time will tell"
-ENDS-
For further information please contact
Petplan Equine Press Office on 020 8580 8194