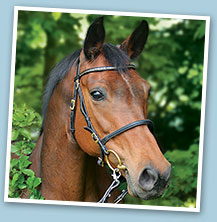 Press room
2008-2003 press releases
Posted: 24/07/2007
Longer Insurance For Long-In-The-Tooth Horses
Olympic veteran, Over To You who, at 19 years of age is now the most highly medalled event horse, is to be the figurehead of Petplan Equine's unique new policy for older horses.
In a groundbreaking move, one of the UK's leading equine insurance companies, Petplan Equine has launched an extension to its existing Activity Plan policy that now entitles horses insured before their 20th birthday to full illness and injury cover until they reach 25 years of age. The policy, which provides more extensive cover for longer than any other equine insurer, is fully endorsed by the Veteran Horse Society (VHS).
Petplan Equine has chosen the famous 19 year old, Olympic veteran Over To You , known as 'Jack', as a figurehead for this policy as he is a shining example of a horse in his prime and in the pink and yet, despite this, his owner was unable to insure him for illness as well as injury. Owners of horses insured with this policy, will be able to contact the vet in the event of suspected illness without financial worry, ensuring our older equine friends receive as much care and attention as their younger counterparts.
Designed to provide peace of mind for owners of horses in their advancing years, the extension to Petplan Equine's Activity Plan makes it unique. Currently other insurers will only offer Veteran insurance to new horses over the age of 16 and existing horses are moved onto Veteran cover by the age of 20. Petplan Equine's policy covers horses up to the age of 25 for vet fees for illness (not just colic) as well as injury providing the horse is insured prior to its 20th birthday.
Jeanette Brakewell, Over To You's long-term partner, has previously attempted to insure the horse whom she has owned fully for two years, but had not done so as she could not find satisfactory cover because he was over 15. "Despite having retired from his three day eventing career at Badminton earlier this year, Jack remains fit and well and continues to compete. I have looked at all the insurance policies available but none would cover him so I am delighted that Petplan Equine has come up with this complete solution" explains Jeanette.
The policy, that was developed following discussion with the VHS, also includes an amendment to the vet fees benefit offered, and Petplan Equine's unique benefits such as simple fixed vet fees excess, cover for alternative treatment and diagnostics and 0% APR to allow customers to pay monthly at no extra cost.
The VHS, who will benefit from a 10% donation from every policy taken out through their organisation, is delighted with this policy which it sees as addressing the biggest cause for concern among owners of older horses – vet fees. VHS founder Julianne Aston says: "The VHS has been going for six years but is one of the fastest growing equestrian membership organisations. In that time we have found that the issue of greatest concern to our members is that of vet fees – it's not that they are necessarily higher but, until now, you haven't been able to insure for illness in older horses", she explains.
"What this means is that thanks to this brilliant Petplan Equine policy, people are more willing to take on the care of an older horse as they now have an option of insurance to protect them from unexpected veterinary costs." she enthuses.
Petplan Equine Brand Manager, Jo Whittaker says: "Following feedback from older horse owners, we approached the VHS to find out what the key issues were. Two things emerged: firstly thanks to better research and care, average life expectancy is increasing and secondly, cover for vet fees was a huge issue. However, insurance policies were not providing the necessary support which our changes are designed to address".
The VHS and Petplan Equine have formed a symbiotic relationship with the welfare of the veteran horse at its centre. Julianne Aston says "we all win but the main winner is the older horse and that is what really matters!"
- Ends -
Notes to Editors:
Petplan Equine was founded in 1988
It is part of Allianz Animal Health, the largest provider of animal health insurance in the world and part of Allianz – one of the largest general insurers in the UK
In addition to horse and pony insurance options, Petplan Equine provides dedicated products for veteran horses and rider only insurance cover
It is the sister brand of Petplan, the largest provider of small animal insurance in the UK
Allianz Animal Health handled more than 375,000 claims in 2006, over 7,200 per week and paid out approximately £2.4 million in claims per week
Petplan Equine believes in supporting the equine community and provides more financial support to equestrian sports and activities than any equine insurance provider in the UK
Sponsorships for 2007 include the Petplan Equine National Riding Festival, BSJA Senior Newcomers, the British Dressage Area festivals, Lucinda Green "Cross Country the Safe Way" clinics
The Pet Plan Charitable Trust was founded in 1994 to raise much needed funds for animal welfare and veterinary projects. Money is raised by Petplan and Petplan Equine customers giving an optional £1.50 to the Trust when they take out or renew their policy. To date, almost £5 million has been awarded by the Trust
Petplan and Petplan Equine are specialist insurers. As such, the company employs more horse riders and owners than any other and more former veterinary practice staff than any other to ensure the provision of specialist knowledge
Petplan Equine is committed to promoting responsible horse ownership. It has produced a useful guide for horse owners or those thinking about owning a horse to help with everything from feeding to travel