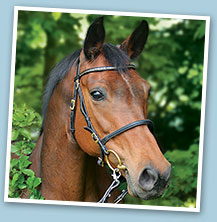 Press room
2008-2003 press releases
Posted: 10/09/03
Petplan Equine for the Veteran
When a horse reaches a certain age, its needs change. Whether a horse is still competing, is used for the occasional hack or is in happy retirement, the most important thing is making sure that we are able to provide our horse with the best we can.
Petplan Equine has been providing insurance for the last 16 years, and as a specialist equine insurer, we have the knowledge to be able to provide a comprehensive policy for your horse, no matter the age. Petplan Equine enjoys being part of a horse's life, from the young to the old, which is why we have developed the Veteran Plan.
Our Veteran Plan is available for horses from 17-29 years old, and provides a policy that is best suited to you and your horses needs. Basic cover starts from £8.04 per month and includes death, theft, 3rd party, personal accident and tack. And you can also insure against any veterinary fees incurred due to an injury up to £1000 for less than £2 extra a month.
For the younger horse, who's coming up to the veteran age, Petplan Equine offers full veterinary cover of £5000 up to the age of 20 years provided your horse is insured with us before its 17th birthday.
You can contact Petplan Equine on 0330 102 1614 for a quote or instant cover.