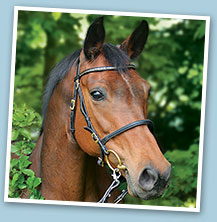 Press room
2011 press releases
Posted: 24/08/11
Ride Around Blenheim with Lucinda Green MBE Winners Announced
Lucky riders, Caroline Snow, from Leybourne in Kent and Hellen McGoey, from East Ilsley in Berkshire, have both won a once in a lifetime ride thanks to Petplan Equine.
The equine insurance specialist launched a competition in-conjunction with Horse & Hound giving two lucky horse enthusiasts the chance to ride around the grounds of Blenheim Palace, during the Fidelity Blenheim Palace International Horse Trials with eventing legend Lucinda Green and Horse & Hound editor Lucy Higginson.
Unfortunately Lucinda incurred an injury during a recent fall, and is regrettably unable to ride, however three-time Olympian and World individual silver medallist William Fox-Pitt will now be taking her place on the ride with our competition winners.
Both Caroline and Hellen will still have the opportunity to meet Lucinda at Blenheim on her cross country highlights course walk and at the Petplan Equine trade stand.
"I'm speechless!" said Caroline on hearing the news. "To have the chance to ride somewhere as amazing as Blenheim and meet such amazing people is the chance of a lifetime. I was hoping to get up to Blenheim this year so I am absolutely thrilled."
Petplan Equine customer Hellen was equally delighted to be told that she was one of the winners. "I've never won anything before," she said, "so this is incredible. To have the chance to meet William Fox-Pitt and Lucinda Green is so exciting and I would like to thank Petplan Equine and Horse & Hound for this wonderful opportunity."
The competition proved very popular with more than 800 entries and the prize package includes two tickets to Fidelity Blenheim Palace International Horse Trials, as well as overnight accommodation for two people, local stabling for their horse and transportation.
To find out more information about Petplan Equine please visit www.petplanequine.co.uk
For more information please contact the Petplan press office on:
Petplan Equine is the UK's leading horse insurance provider offering a wide variety of flexible horse insurance and rider insurance policies which cater for all levels of experience.
Established more than 20 years ago, Petplan Equine is part of Allianz Insurance, one of the largest general insurers in the world.
For more information about a Petplan Equine horse insurance policy, please visit:
petplanequine.co.uk/insurance/quote.asp
Note to editors:
The Petplan Equine Census was conducted in spring 2010. An online questionnaire was filled in by over 1700 UK horse owners.
*ONS 2007
Petplan Equine was founded in 1988
It is part of Allianz Animal Health, the largest provider of animal health insurance in the world and part of Allianz – one of the largest general insurers in the UK
In addition to horse and pony insurance options, Petplan Equine provides dedicated products for veteran horses and rider only insurance cover
It is the sister brand of Petplan, the largest provider of small animal insurance in the UK
Petplan Equine believes in supporting the equine community and provides more financial support to equestrian sports and activities than any equine insurance provider in the UK
The Pet Plan Charitable Trust was founded in 1994 to raise much needed funds for animal welfare and veterinary projects. Money is raised by Petplan and Petplan Equine customers giving an optional £1.50 to the Trust when they take out or renew their policy. To date, almost £5 million has been awarded by the Trust
Petplan and Petplan Equine are specialist insurers. As such, the company employs more horse riders and owners than any other and more former veterinary practice staff than any other to ensure the provision of specialist knowledge
Petplan Equine is the only insurer to offer illness and accident cover for older horses, up to the age of 25 as long as the policy is taken before your horse reaches the age of 20.