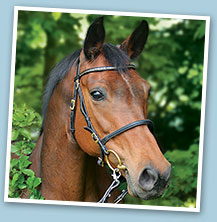 Press room
2010 press releases
Posted: 15/05/10
Rider Plan Policy with Petplan
Petplan Equine, the UK's leading horse insurer, offer an insurance package aimed specifically at people who enjoy riding without the commitment of owning their own horse.
Available to all riders between the ages of 5 and 75, Rider Plan offers financial protection against accidental damage and injury, either on or off the horse. As we live in an increasingly litigious society, third party cover is also included. This provides you with insurance against the legal costs that can arise if the horse you are riding causes injury or damage to someone else or their property and you are held legally liable.
Rider Plan offers varying levels of cover to suit riders' requirements and budgets. With prices starting from just £48 a year, three plans are available – Young Rider for those under 18, Basic and Deluxe. Unlike many insurance policies, your premium is not affected by where you live, your age, riding ability or what breed of horse you ride. All three policies also cover drivers of horse drawn vehicles.
There are optional levels of cover, however the policy includes:
Protection against accident and injury
Protection against loss, damage or theft of riding equipment
Third party liability
A cash benefit for every night spent in hospital as a result of a personal injury covered by the policy
Permanent and temporary disability including loss of income
Emergency veterinary treatment for the horse up to £1,500
Financial assistance for personal injuries resulting in dental repair/surgery
The Young Rider plan also covers the cost of private tuition fees up to £2,500 should your child be unable to attend full-time education.
Horse riding is becoming an increasingly popular sport, but did you know…?
Approximately 2.4m people enjoy riding in the UK each year
There are over 700 British Horse Society approved riding schools and 1,883 local authority licensed schools in the UK
Over 40,000 children belong to The Pony Club in the UK, many of whom do not own their own horse
45 million 'paid for' riding lessons are taken each year
Riders come from all social backgrounds – 24 per cent earn less than £10,000 a year
Celebrities such as Jodie Kidd, Zara Philips and Madonna have helped glamorise riding in recent years
Riding is a fun way to get fit – you can burn over 400 calories an hour and increase muscle strength by up to 50 per cent without adding bulk
…but as well as being great fun, riding is expensive and can occasionally be risky:
There are over 3,000 accidents involving horses on the roads a year – that's eight each day
A severe fall may leave the rider with chipped or missing teeth, broken bones or even concussion
A badly broken bone could render you in hospital for as much as a week and leave you immobile for up to eight weeks – a loss of £4,000 from the average salary
Concussion can mean up to six months off work
Alison Andrew, Communications Manager for Petplan Equine adds, "Rider Plan provides peace of mind as riders feel confident that, if anything should happen whilst riding, they will be financially covered for most eventualities."
Details of Cover:
Young Rider (under 18 years)
Basic
Deluxe
Emergency Vets Fees
£1,000
£1,000
£1,500
Death
£5,000
£10,000
£20,000
Permanent Disability
£10,000
£10,000
£20,000
Permanent Total Disability
(If you cannot carry out any type of work after 52 weeks from the date of the accident)
£10,000
£10,000
£20,000
*Temporary Total Disability
(If you cannot carry out all the duties of your job) *If you are retired, or not working under contract of employment, we will pay your medical and other extra expenses due to you injury up to the weekly benefit
Nil
£50 each week
£100 each week
Tuition fees
If you cannot attend your usual place of education as a full-time student because of your injury we will pay for the cost of a private tutor
£2,500
Nil
Nil
Dental Treatment
£1,000
£1,000
£1,000
Hospital Benefit
For each 24 hours you are in hospital
£25
£30
£50
Riding equipment
If your riding kit or your tack is lost, stolen, damaged or destroyed while you are riding or travelling to or from the place you are riding
£1,000
£1,000
£1,500
Third Party Liability
£1 million
£1 million
£1 million
Custodial Liability
If a horse you are riding is injured or dies, or if a horse drawn vehicle you are using is damaged, and you are legally responsible
£1,000
£2,000
£3,000
Annual Premium
– per rider/driver
£48
£72
£96
Petplan Equine insurance information is available direct on 0330 102 1658 or at www.petplanequine.co.uk
For more information please contact the Petplan press office on:
Petplan Equine is the UK's leading horse insurance provider offering a wide variety of flexible horse insurance and rider insurance policies which cater for all levels of experience.
Established more than 20 years ago, Petplan Equine is part of Allianz Insurance, one of the largest general insurers in the world.
For more information about a Petplan Equine horse insurance policy, please visit:
petplanequine.co.uk/insurance/quote.asp