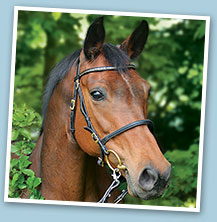 Press room
2010 press releases
Posted: 01/11/10
Top Ten Equine Christmas Gift Ideas from Petplan
Stuck for present ideas this Christmas? Help is at hand...
Horses across the UK will be waking up to stables full of presents on Christmas morning, according to a survey of 1700 horse owners by Petplan Equine, the UK's leading specialist equine insurer.
With the festive season just around the corner, a whopping 98% of horse-owners say that they consider their horse to be part of the family, and with as many as 97% of owners intending to buy a festive present for their horse, it's time to get creative with your Christmas shopping list.
If your horse turns its nose up at the sight of the Argos catalogue and simply refuses to discuss gift vouchers, help is at hand. Petplan Equine has found this year's top ten equine presents, to help you choose the perfect gift to get your four legged loved one whickering with delight.
The top ten equine festive favourites are:
A box of special treats
Combo turnout rug
Leather head collar
Lambswool numnah
A new saddle
A new bridle
A thermatex
Tendon boots
A hay steamer
Exercise bandages
Not satisfied with treating their horses with great gifts, horse owners are also planning to give their horse a special Christmas dinner this year, with carrots, apples and parsnips being the most popular ingredients.
Alison Andrew, Petplan Equine Marketing Manager, commented: "We were struck by how many people intend to celebrate this special occasion with their horse and give them a present. We all know how time-consuming Christmas shopping can be so we thought we'd find the top ten gifts on horse owner's minds."
Alison continued, "Anyone with a passion for horses will know there is always something to buy your horse – from trailers to salt licks. It's great that so many people see their horse as a part of the family and are prepared to give them a special treat at Christmas time."
Petplan Equine also found the top gifts horse owners would like to receive this Christmas, which included a Musto riding jacket, followed by long leather riding boots, new saddles breeches and riding gloves which all topped the list..
For more information please contact the Petplan press office on:
Petplan Equine is the UK's leading horse insurance provider offering a wide variety of flexible horse insurance and rider insurance policies which cater for all levels of experience.
Established more than 20 years ago, Petplan Equine is part of Allianz Insurance, one of the largest general insurers in the world.
For more information about a Petplan Equine horse insurance policy, please visit:
petplanequine.co.uk/insurance/quote.asp
Notes to Editors:
The Petplan Equine Census was conducted in spring 2010. An online questionnaire was filled in by over 1700 Petplan policyholders.
Petplan Equine was founded in 1988
It is part of Allianz Animal Health, the largest provider of animal health insurance in the world and part of Allianz – one of the largest general insurers in the UK
In addition to horse and pony insurance options, Petplan Equine provides dedicated products for veteran horses and rider only insurance cover
It is the sister brand of Petplan, the largest provider of small animal insurance in the UK
Petplan Equine believes in supporting the equine community and provides more financial support to equestrian sports and activities than any equine insurance provider in the UK
The Pet Plan Charitable Trust was founded in 1994 to raise much needed funds for animal welfare and veterinary projects. Money is raised by Petplan and Petplan Equine customers giving an optional £1.50 to the Trust when they take out or renew their policy. To date, almost £5 million has been awarded by the Trust
Petplan and Petplan Equine are specialist insurers. As such, the company employs more horse riders and owners than any other and more former veterinary practice staff than any other to ensure the provision of specialist knowledge