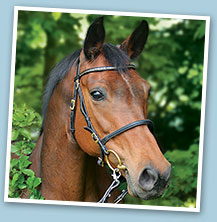 Press room
2010 press releases
Posted: 21/10/10
Top Tips on Protection from Theft
No one wants to think that they could be the victim of a burglary. However horse owners need to remember that saddlery, tack and other accessories are valuable and add up to an attractive opportunity for thieves. While it's essential that you take the right precautions to protect your property, making sure it is insured is also important. Insurance will give you peace of mind and financial security, so if the worst did happen and your saddlery and tack is stolen you will be covered.
Alison Andrew, Marketing Manager, of leading specialist equine insurer, Petplan Equine, offers horse owners and those who own and run livery yards some sound advice to help prevent theft in the first place and mitigate its impact should the worst happen:
Be vigilant: Make sure you keep alert to any strange sightings around the yard or unexpected visits and where possible record descriptions of people and any vehicles
Lock up: Keep all your equestrian property stored safely and securely. To protect your property and keep within the terms of most insurance policies, tack rooms (or any other building containing equestrian equipment that you do not live in) should be locked with a 5-level mortice deadlock (one that is fitted into the door and frame) and any windows should have steel grids on them.
Out of sight: When you're out and about, make sure you keep tack and saddles out of sight. If you have to keep tack and equipment in a vehicle, make sure it is locked away in the boot or covered luggage area – if it's visible it may not be covered by insurance. Insurance companies will not normally pay if you have items stolen from an unlocked vehicle.
Know their value: It is important if you are intending to insure against theft that you have your items valued and provide valuations to your insurance company in advance.
Secure your documents: Documents such as those pertaining to equipment, purchase of horses, horse passports, insurance documents, veterinary certificates etc should all be stored securely.
Keep a list: Compile a comprehensive list of all saddlery, tack and equipment, including descriptions, serial numbers and security markings. It is sometimes a good idea to photograph the more expensive items. These should be valued and you should always keep a proof of any purchases.
Know your policy: Although at Petplan Equine we offer new for old cover, which means we pay the cost of replacing your tack with new equivalents. However, some insurers may only pay what they believe your tack was worth taking into account depreciation/wear and tear in which case accurate records will be vital.
Contact your insurer: In the unfortunate event that you experience a theft, contact your insurer as quickly as possible and have as many of the facts to hand as possible. It will help your insurer if you can provide all the details of items stolen, including valuations, as well as the crime reference number which the police will provide.
For further information on equine insurance including saddlery and tack cover, contact Petplan Equine on 0330 102 1658 or visit www.petplanequine.co.uk.
For more information please contact the Petplan press office on:
Petplan Equine is the UK's leading horse insurance provider offering a wide variety of flexible horse insurance and rider insurance policies which cater for all levels of experience.
Established more than 20 years ago, Petplan Equine is part of Allianz Insurance, one of the largest general insurers in the world.
For more information about a Petplan Equine horse insurance policy, please visit:
petplanequine.co.uk/insurance/quote.asp