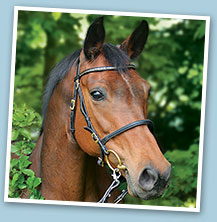 Press room
2011 press releases
Posted: 18/04/11
Waverton-based Amateur Dressage Rider is this years Petplan High Achiever
Waverton based rider Jodie Wong has scooped the Petplan Equine High Achiever Award at the twelfth annual Petplan Equine Area Festival championships held at Hartpury Arena, Gloucestershire.
Petplan Equine, the UK's specialist insurance provider, created the High Achiever Award to recognise the outstanding achievement of the horse and rider combination who achieves the highest overall percentage score across all the Petplan Equine championship classes at the Finals.
Riding her father's Samurai II, a homebred 7 year old gelding, 15 year old Jodie impressed the judges and received a score of 77.73% to triumph over the 400 other competitors taking the title of their year's Petplan Equine High Achiever. Jodie's prize is a five-day intensive training course with Adam Kemp FBHS and Matt Frost at Gloucestershire-based AM Dressage.
Jodie 'stole' the ride about a year ago from her father Adrian who had lightly competed Samurai II. Standing at 17hh Samurai II is Jodie's first horse – quite a step up from her 13.3hh pony. The combination impressed judges Gloria Leverett and Linda Whetstone to score a remarkable 77.73% - a full 5.23% ahead of the second placed rider, Gemma Somers.
Commenting on the result, Jodie said "I couldn't have asked more of him today – I'm so proud and pleased with everything he's done. He tried his heart out. It's the first time I've done anything like this, we're amazed at the score. It hasn't really sunk in yet, I was just hoping to be in the top ten."
Now in their 12th year, the Petplan Equine Area festivals give riders of all levels the opportunity to experience the thrill of competing in true championship conditions, while in a relaxed and friendly environment. Over 2,000 amateur dressage riders from all over the UK competed at 15 Petplan Equine Area festivals across the country from August to November in 2010, for a chance to qualify to ride in these prestigious finals and win this High Achiever award.
Last year's winner, Devon-based Janine Jansen earned the award when she won the Petplan Equine Elementary Open Area Festival Final and the Novice Open Final. Janine then went on to win the Elementary Restricted Championship title at the 2010 Dressage Deluxe National Championships held at Stoneleigh Park in September for which she gave credit to the additional 'High Achiever' training Petplan Equine and AM Dressage provided.
Alison Andrew, Head of Marketing at Petplan Equine said: "Petplan Equine has been sponsoring this competition for 12 years to give grass roots dressage riders the chance to compete on the 'big stage'. The standard of dressage among riders in the Petplan Equine Area festivals has improved year on year and I would like to congratulate Jodie on her fantastic win and I'm sure they'll really benefit from their five day training course at AM dressage."
Further information about the Petplan Area festivals and how to qualify for next year is available here.
For more information please contact the Petplan press office on:
Petplan Equine is the UK's leading horse insurance provider offering a wide variety of flexible horse insurance and rider insurance policies which cater for all levels of experience.
Established more than 20 years ago, Petplan Equine is part of Allianz Insurance, one of the largest general insurers in the world.
For more information about a Petplan Equine horse insurance policy, please visit:
petplanequine.co.uk/insurance/quote.asp
Note to editors:
Petplan Equine was founded in 1988.
It is part of Allianz Animal Health, the largest provider of animal health insurance in the world and part of Allianz – one of the largest general insurers in the UK.
In addition to horse and pony insurance options, Petplan Equine provides dedicated products for veteran horses and rider only insurance cover.
It is the sister brand of Petplan, the largest provider of small animal insurance in the UK.
Allianz Animal Health handled more than 375,000 claims in 2006, over 7,200 per week and paid out approximately £2.4 million in claims per week.
Petplan Equine believes in supporting the equine community and provides more financial support to equestrian sports and activities than any equine insurance provider in the UK.
Sponsorships for 2007 include the Petplan Equine National Riding Festival, BSJA Senior Newcomers, the British Dressage Area festivals, Lucinda Green "Cross Country the Safe Way" clinics.
The Pet Plan Charitable Trust was founded in 1994 to raise much needed funds for animal welfare and veterinary projects. Money is raised by Petplan and Petplan Equine customers giving an optional £1.50 to the Trust when they take out or renew their policy. To date, almost £5 million has been awarded by the Trust.
Petplan and Petplan Equine are specialist insurers. As such, the company employs more horse riders and owners than any other and more former veterinary practice staff than any other to ensure the provision of specialist knowledge.
Petplan Equine has produced a Horse Handbook, a useful guide for horse owners or those thinking about owning a horse to help them with everything from feeding to travel.