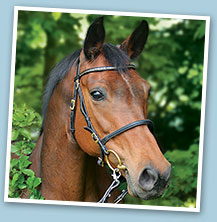 Press room
2010 press releases
Posted: 02/06/10
Equine Emergencies
If you are unlucky enough to be involved in a serious equine emergency, there are ways in which you can reduce accident and injury to yourself and your horse. Petplan Equine Vet of the Year, Gil Riley, talks us through what to do if the worst does happen.
A trapped horse can be extremely dangerous as it is natural for it to struggle and kick out to try and free itself. SERIOUS injuries can occur to unwary people keen to intervene and help. Bear in mind that every year many horse owners are injured, some seriously, during heartfelt but ill-advised attempts at horse rescues. So what are you to do if you find yourself in an equine emergency where your horse, for example, becomes trapped in a ditch or an over turned vehicle or trailer?
Firstly do not panic but do call the emergency services. Most fire brigades now have a trained animal rescue team and it's important to get them on the way as soon as possible. You need to remember to provide them with as much detail and information regarding your location as possible to enable them to find you in the shortest possible time, as this may ultimately prove vital to achieving a successful outcome.
Call your vet. Frequently in situations such as these, sedation or even a general anaesthetic will be needed. The fire service will not start a rescue unless veterinary advice is at hand. Make sure you have your veterinary surgery number programmed into your mobile phone and that you keep your phone with you at all times when working with your horse. If you are travelling outside of your normal area, the local fire service will have a list of BEVA (British Equine Veterinary Association) vets who will be able to help in an emergency.
Once the emergency services and vet have been contacted and on their way then you can concentrate on the trapped horse. Remember to consider safety and not to put yourself or others in danger - there is a high risk of injury when dealing with a trapped horse as they are very prone to thrash violently, struggle and kick in order to free themselves. Always approach from the spinal side and keep very well out of the range of the limbs, head and neck area as sudden movements can cause people serious injury.
Always be cautious because in some cases you may make the situation worse. For example, if your horse is trapped in a box which is on a public road DO NOT release your horse until you have identified a safe area to which it can be moved. Many serious accidents are caused by loose horses, once freed, charging into the road and colliding with oncoming traffic.
A very helpful action can be to make sure the horse has a head collar on with a lead rope. However, make sure you but DO NOT place yourself in any danger trying to put one on.
Do not shout or make loud noises, try to keep everyone around you quiet, as noise stimulates a trapped animal causing it to struggle more and potentially injure itself. A trapped horse is rarely in immediate danger as long as it is kept calm, so do not panic or try to release it until a trained expert has arrived on the scene to help. Allow them to work out a suitable and safe approach to release the animal. It is essential that any rescue attempt is carefully planned which can take time to do. In the example where a trailer has turned over with more than one horse inside, it may be better that the vehicle is slowly righted before then freeing the horses rather than attempting to release them with the trailer on its side. You must be prepared to allow the professional assistance to do their job and not to interfere or try to involve yourself unless specifically asked by the incident commander.
Once the horse is freed it will require a thorough examination from the vet as there may be wounds, injuries or any physical abnormality the horse may have suffered. The vet also will be able to advise on any necessary management or treatment after the incident.
However, it is important to understand that, sadly where an animal has sustained a serious injury or when it has become trapped because it is debilitated through old age (e.g. fallen into a ditch) euthanasia may be a more humane option and prevent any further distress or suffering of the horse better than attempts at rescue. Also, in the case of a rider being trapped under the horse, priority MUST be given to the safety of that person – even if again this means that the horse is humanely destroyed.
So remember, in the case of an emergency:
Stay calm
Keep quiet
Call for help
Wait for assistance
Place your safety, and those of others, first.
Fig1: Simulated horse rescue

Fig2; Vets practising releasing a horse that has become stuck in a bog

Fig3: Vets practising a sideways drag out of a ditch

Fig4: A lifting technique
For more information about Petplan Equine visit www.petplanequine.co.uk or call 0330 102 1614 or for more information on the care of your horse visit their site www.yourstables.co.uk.
To find out more about the BEVA / BHS safer horse rescue protocol visit:- www.beva.org.uk
For more information please contact the Petplan press office on:
Petplan Equine is the UK's leading horse insurance provider offering a wide variety of flexible horse insurance and rider insurance policies which cater for all levels of experience.
Established more than 20 years ago, Petplan Equine is part of Allianz Insurance, one of the largest general insurers in the world.
For more information about a Petplan Equine horse insurance policy, please visit:
petplanequine.co.uk/insurance/quote.asp