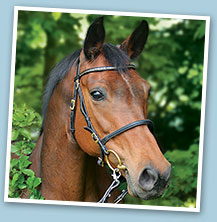 Press room
2011 press releases
Posted: 19/07/11
In the Interest of Security
Neil Brettell, Director from specialist equine insurers Petplan Equine, gives some valuable advice to horse owners on how to minimise the risk of theft
Keeping property safe is important to us all, and while insurance companies provide peace of mind that the cost of replacing property can be recovered, some items are irreplaceable and prevention is always the best method.
Valuable items are always attractive to thieves but there are a number of security measures that can be taken to help prevent you becoming a victim of crime.
Safeguarding your horse
The theft of an animal can be extremely traumatic and being a responsible horse owner means taking steps to keep your animal safe. Being able to provide an accurate description to the police and your insurance provider helps in any search, so make sure you keep a detailed description of your horse, including any distinguishing marks, and a set of photos taken from each side, front and rear, in winter and in summer.
Visible forms of identification may also act as a deterrent to thieves; try to ensure that your horse is easily identifiable which will make it easier to recover if it is stolen.
Freeze marking is a humane and simple procedure that is easily visible. The area to be marked is clipped and cleaned and the branding iron is cooled in liquid nitrogen and applied to the skin. The extreme cold kills the pigmentation in the hair cells so that new hair grows back white, making the mark visible. On grey horses the hair has to be killed permanently by leaving the markers on slightly longer which results in a bald mark.
The companies that provide freeze marking services hold a register of all the horses that they brand, and supply a registration document to owners making it easy to trace. Deter thieves by placing warning signs around the yard and on the field gate that horses are marked/micro chipped so thieves know that the horse can be easily identified. Its also advisable to mark your horse's rugs with its freeze mark number as well.
Micro chipping costs approximately £20 and involves having a microchip injected into the skin in the horse's neck by a qualified vet. The microchip is registered on the 'HorseSafe' computerised system allowing the owner to be traced if a horse is found. The horse can also be freeze marked with a small symbol indicating the existence of the microchip.
Registering your horse with the National Equestrian Database (NED) may also reduce the risk of it being stolen and increase the chances of it being recovered.
You can also safeguard your horse by:
Making sure all yard and field gates cannot be lifted off their hinges and are securely padlocked with a close-shackled padlock and a pad bar. Do not use a chain as this can be cut through easily.
Installing CCTV or dummy cameras
Installing security lights that will automatically come on when movement is detected.
Not leaving a head collar on your horse in the field.
Varying your routine so that thieves will not know when the yard will be unattended.
If you discover your horse has been stolen or has gone missing you must initially tell the police first and then your insurance provider as soon as possible.
Some insurance policies include the cost of advertising and payment of a reward if the horse is found or returned.
Keeping Your Tack Secure
Valuable equipment is expensive to replace and an increasing number of horse owners are adding Saddlery and Tack cover to their horse insurance policy. Most equine insurance companies apply specific terms and conditions to ensure that tack is stored as securely as possible to minimise the risk of theft.
Most companies insist on the fitting of a '5-lever mortice deadlock' on all doors if the tack is not stored at home. Insurance companies also require steel bars or grids to be fitted on the windows of tack rooms. If tack has to be left in a vehicle, it must be in a locked boot or in the covered luggage area of a locked vehicle. Don't leave items lying around or in clear view of visitors or passers-by.
Horsewatch is a scheme set up to connect all horse owners and riders with the intention of improving security and communication. If you see anything suspicious in your area make a note and report any sightings to the local police and Horsewatch.
Security marking can be just as effective in preventing the theft of equipment. All Horsewatch co-ordinators have access to tack marking equipment and will visit your yard, on request, to apply your postcode on all leather, synthetic and metal equipment.
Make a comprehensive inventory of your tack and equipment, including receipts, relevant descriptions (colour, size, etc.) serial numbers and details of security markings or post coding. Keep photographs of any unusual or expensive items and keep all records secure so they are readily available when needed, but out of sight, hidden away from visitors.
Remember that unless your tack is identifiable by serial numbers, postcode, microchip or other visual method, it is unlikely to be recovered if stolen.
Saddlery and Tack insurance will pay the cost of repairing saddlery and tack if it is damaged, if it is lost, stolen, or destroyed.
The amount of insurance you need depends upon whether the policy covers you for 'New for Old' or not. If you are covered for 'New for Old' you will need to insure your tack for it's full replacement value. If not, estimate how much all saddles, bridles and other tack you own are currently worth. The value is the price generally paid for the same saddle or item of tack of the same age, type and condition.
Horseboxes and Trailers
To help prevent vehicle theft, investing in good quality wheel clamps that have a high security rating may help. Fit clamps to the back wheels to prevent any towing and hitch locks to trailers may be an added deterrent as are barriers with locks to prevent a trailer being moved.
Make a note of your horsebox or trailer's make, model and serial number and keep it somewhere safe together with photographs of the vehicle. Petplan Equine suggests that you find out from your insurer what requirements you must adhere to, to ensure that your cover is valid.
To find out more about insurance of horses, saddlery and equipment visit www.petplanequine.co.uk or for further information on preventing and reporting equine crime visit www.ukhorsewatch.org.uk.
For more information please contact the Petplan press office on:
Note to editors:
The Petplan Equine Census was conducted in spring 2010. An online questionnaire was filled in by over 1700 UK horse owners.
*ONS 2007
Petplan Equine was founded in 1988
It is part of Allianz Animal Health, the largest provider of animal health insurance in the world and part of Allianz – one of the largest general insurers in the UK
In addition to horse and pony insurance options, Petplan Equine provides dedicated products for veteran horses and rider only insurance cover
It is the sister brand of Petplan, the largest provider of small animal insurance in the UK
Petplan Equine believes in supporting the equine community and provides more financial support to equestrian sports and activities than any equine insurance provider in the UK
The Pet Plan Charitable Trust was founded in 1994 to raise much needed funds for animal welfare and veterinary projects. Money is raised by Petplan and Petplan Equine customers giving an optional £1.50 to the Trust when they take out or renew their policy. To date, almost £5 million has been awarded by the Trust
Petplan and Petplan Equine are specialist insurers. As such, the company employs more horse riders and owners than any other and more former veterinary practice staff than any other to ensure the provision of specialist knowledge
Petplan Equine is the only insurer to offer illness and accident cover for older horses, up to the age of 25 as long as the policy is taken before your horse reaches the age of 20.