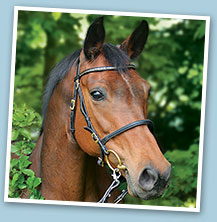 Press room
2015 press releases
Posted: 31/03/15
Petplan Equine statistics show laminitis is a year round problem
Petplan Equine, a leading specialist equine insurance company, is warning horse owners to be extra vigilant in preventing laminitis. Latest claims' statistics released show that the Petplan Equine paid out almost £370K in claims for laminitis last year with each claim averaging around £1,000. While the highest were recorded in August, claims were received every month in 2014.
Greater understanding about this debilitating condition means year-round management makes prevention increasingly possible.
According to Petplan Equine's veterinary expert, Gil Riley MRCVS, "Laminitis is the most common and painful debilitating condition affecting horses and ponies in the UK today". Laminitis is always in Petplan Equine's top three most common claims.
Laminitis is inflammation of the laminae, the soft tissue structures in the foot, which causes profound pain and undermines the strength of the tissues. It can result in a rotated pedal bone and in the worst cases 'founder' (where the pedal bone penetrates the sole) which can be life threatening. Other symptoms include lameness, heat and increased digital pulses in the affected feet.
Thanks to extensive research a great deal more is known about the causes of laminitis and therefore how to prevent. Once associated only with the times of year with better grass like the spring, laminitis is now a year round threat demonstrated by the fact that Petplan Equine paid out more for Laminitis claims in August last year than in any other month.
Vigilance is vital at all times in managing our horses' exercise and diet regimes to maintain a healthy weight which can help prevent it. A key cause is insulin resistance to which the overweight horse or pony is particularly prone. This insulin resistance in the over weight horse is known as Equine Metabolic Syndrome (EMS) which is now considered a key cause of laminitis.
Cushings disease which is the result of a dysfunction of the Pituitary gland resulting in excess amounts of steroid in the body is another important cause of laminitis. Horses and ponies with Cushings, which mainly affects older animals, may also display a woolly coat and unusual fat deposits and be vulnerable to infections.
"At Petplan Equine we work closely with expert partners across the industry to bring horse and pony owners the latest advice on effective strategies to help prevent illness and injury to their horses. Thanks to recent research, a great deal more is known about laminitis and a useful article by Gil Riley on the causes of this debilitating condition and how to prevent it can be found on the advice section of our website www.petplanequine.co.uk/laminitis" says Petplan Equine senior marketing executive Charlotte Collyer.
According to Gil Riley, laminitis is Equine Enemy Number One in the fight to maintain the health of our horses and ponies but the good news is that we can play a huge role in determining whether our animals are at risk. He advises: "Monitor the diet and your animal's condition regularly. Use a weight tape, take pictures for records on your mobile phone. Condition score on a fortnightly basis paying particular attention to the fat laid down around the crest of the neck. And finally, if still concerned, talk to your feed supplier/dietary advisor and your Vet- they will be able to advise on diet and management and perform the appropriate tests so treatment can commence before laminitis strikes.
For more information please contact:
Petplan Equine offers comprehensive insurance cover for horses and ponies aged from 30 days. Established 25 years ago, Petplan Equine understands the evolving equestrian market and strives to enhance knowledge and understanding of the equine world through employing horse enthusiasts and working closely with the equine industry.
Petplan Equine is part of the Petplan brand. Founded in 1976, Petplan is the UK's largest pet insurance provider, offering comprehensive cover for dogs, cats, rabbits and horses.
Note to editors:
Media enquiries: for further information, please contact:
Andrea Worrall at The GPC by email: [email protected] t: (01608) 654040