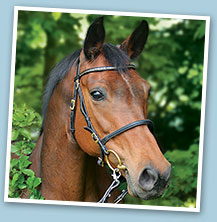 Press room
2008-2003 press releases
Posted: 04/07/03
Petplan Equine sharing the care of your horse
Former world and six times Badminton champion Lucinda Green today (1st May) unveils the new brand identity and acquisition programme for leading equine insurers Petplan Equine, part of Allianz.
The emphasis of the company's new 'Share' campaign is to demonstrate Petplan Equine's commitment to the needs of its customers. The new branding, which will be launched at Badminton horse trials, features evocative black and white photography focusing on different horse characteristics and moods that owners will recognise. The images will be seen for the first time today on the Petplan Equine stand. Merchandise including branded folders, carrier bags and mouse mats illustrating the new imagery will be available to visitors to the stand during the four days of the event.
David Keel, Head of Marketing for Petplan Equine, says: "We wanted to develop a campaign that embodies our relationship with our customers. We share in the care of your horse by providing payment when accidents, injuries or the unforeseen happen. We also share our customers' passion for equine welfare through the Pet Plan Charitable Trust. Through our sponsorship of high profile events such as Blenheim and grass roots events in dressage and show jumping, we share their concerns for the continued success of all levels of our sport."
The new campaign, which was created by Petplan's newly appointed agency 141, will be promoted through direct mail and press advertising in the equestrian media. The agency has also redesigned a 40 page free guide to horse insurance as well as leaflets for insurance plans for specialist disciplines such as dressage, eventing and show jumping and a Veteran Plan for horses between 17 and 29.
The new creative will also be seen on the Petplan equine web site, also re-launching in May. As an increasingly important source of new business and information for customers the site has been overhauled to be as user friendly as possible. Now attributing for almost 15% of all new business, the site features an on-line quote engine and encrypted and secure payment facility, allowing Petplan Equine to be open for business 24 hours a day.
Rob Quick, client services director at 141, says: "Insurance is a notoriously fickle market and the aim of the new campaign is to encourage horse owners to stay with Petplan Equine and convert from other insurers by getting across the message that Petplan Equine cares for their horse as much as they do. No other insurer puts the horse at the heart of their business in this way. By demonstrating empathy with horse owners, Petplan Equine gains their trust and respect and they feel reassured that they are with the right company."
For further information on the services and products provided by Petplan Equine call free on 0330 102 1614