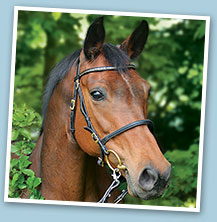 Press room
2008-2003 press releases
Posted: 10/09/03
Petplan Equine continues partnership with Lucinda Green
Petplan Equine, continuing their commitment to putting more into equine welfare in sport than any other insurer, have renewed their support of 6 times Badminton winner Lucinda Green.
Following a very successful 2002 working with Lucinda on her "Learning The Safe Way" cross country clinics, Petplan Equine have agreed their support throughout 2003.
Geraldine West, Channel Marketing Manager for Petplan Equine says, "Lucinda designed these courses as a way of passing on valuable knowledge learnt during her extraordinarily successful eventing career, paying particular attention to riding safely. The clinics have been so successful that we are delighted to be able to offer our continued support".
Lucinda Green has held 2-day clinics suitable for Intro to Intermediate levels with great success.
Lucinda will also be hosting a cross country course walk at Blenheim on Thursday 11 September and Jeanette Brakewell will be hosting her course walk on Friday 12 September.