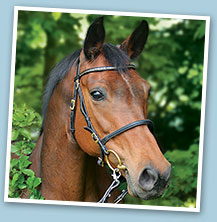 Press room
2010 press releases
Posted: 10/03/10
Top Ten showing tips
With the summer show season fast approaching it's time to think ahead and plan a great day out for you and your horse. Alison Andrew, Marketing Manager of leading UK specialist equine insurance provider Petplan Equine, gives you her top tips to help you make sure your day runs smoothly.
Plan ahead. Write a checklist for equipment that you need so that nothing is forgotten and you are not in a rush. This will keep you and your horse calm, prevent accidents and let you focus on winning.


Plan the journey. There are many things to consider when transporting horses. Do you know your route? Has your horse got an up-to-date passport? Who would you call if there is an emergency? Have you got water and hay on board in case of long delays? Is your horse comfortable in the right rugs and travelling boots/bandages? The last thing you need is a stressed, sweaty horse arriving at a show.


Don't forget to warm up fully this not only reduces the risk of injury, but is a great time to brush away nerves. If you can, find a quiet spot on even ground.


If you have a young or temperamental horse be sure to keep it away from others until it is time to go into the ring. Should it hurt another person or horse you could be liable to pay for any treatment that might be needed. Making sure your insurance includes Third Party Liability cover is a good idea as claims relating to this can run into hundreds of thousands of pounds and if your horse injures or damages anything or anyone you could be liable.


If you are waiting to go into the ring and your horse gets kicked be sure to ask the other person for their insurance details in case your horse needs treatment.


Do not leave any of your equipment outside on the ground when you are away from your trailer or horsebox because it will not likely be covered with your insurance.


Give your horse a rest during the day – he is not an arm chair to sit on between classes.


Think about the weather. If you are wearing a jacket because you are cold, your horse will need a rug too. Feel his ears – if they are cold, he may well be cold. Alternatively make sure if it is a hot day he is cool, you have applied fly spray and he has access to water.


After you have finished for the day it is a good time to let your horse graze on a hay net. This will not only prevent your horse from bolting his hard feed when he returns home, but is also a great opportunity to sponge off the sweat and check for any minor injuries.


At home make sure you stay with your horse while he starts to drink and eat. This can cause horses to sweat up again so make sure you are happy with his temperature before you leave. If it has been a hot day or your horse has sweated heavily it can be useful to feed an electrolyte.
For more information please contact the Petplan press office on:
Petplan Equine is the UK's leading horse insurance provider offering a wide variety of flexible horse insurance and rider insurance policies which cater for all levels of experience.
Established more than 20 years ago, Petplan Equine is part of Allianz Insurance, one of the largest general insurers in the world.
For more information about a Petplan Equine horse insurance policy, please visit:
petplanequine.co.uk/insurance/quote.asp