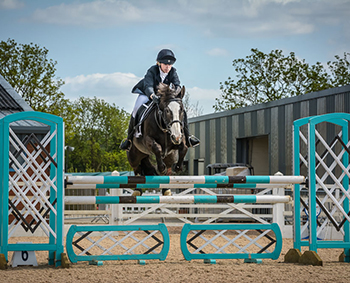 Juliette - Petplan Equine Ambassador
It is reassuring to know that with Petplan Equine my horses are fully covered for illness, injuries and lameness until they are 25 years old, as my eldest is still eventing successfully at 21 years of age!
Juliette Edmonds is from Buntingford and competes in eventing with her horses; Boodles, and her wonder pony, Jess. As a responsible horse owner and an equine vet, her horses' wellbeing and happiness is Juliette's prime concern.
Jess (Guess Again) is a Cob cross who was rejected by an agricultural college as she was too sharp for many of the students. At 14.3hh she has surprised everyone with her talent and amazing attitude - she is indeed a wonder pony! Boodles (Bubba Gump) is a Warmblood cross Irish Sport Horse who shows a lovely attitude to work and is gaining confidence every day. Juliette has also recently welcomed a one year old filly called Pandora to the family. Juliette is really looking forward to their adventures together and is hoping she will grow up to be a super event horse!
Plans for 2019
Boodles is aiming to compete at BE100/105 with double clear rounds more consistently. He has a regional final qualification and they will attempt to qualify for the grassroots championship at Badminton 2020. If the season goes really well there is a chance Juliette and Boodles will step up to BE Novice by the end of the season.
Jess is looking for a fun year mostly taking trips out for forest rides and some fun jumping rounds, she will not aim for the same level as previous years, at 23 she will be taking it a bit easier!
Ambassador updates 2018
Winter Show Jumping Championships
Ambassador updates 2017
Spring show jumping and eventing
Ambassador updates 2016
Ambassador updates 2015
Juliette's Guide to eventing