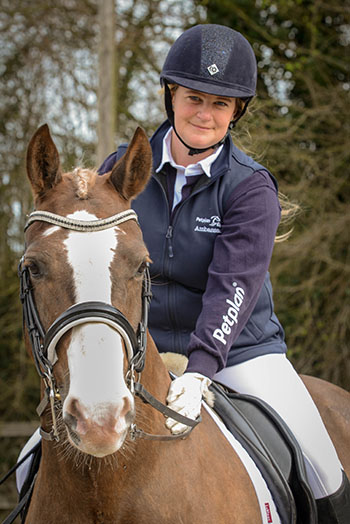 Lyndsey - Petplan Equine Ambassador
We all want the best for our equine friends and for me, being insured with Petplan Equine means I do not have to worry about the cost of any unexpected veterinary fees that occurs. For that I am eternally grateful.
Lyndsey Ryder is from Hertford and competes in dressage with her Welsh section D called Max. Though he might not be your average dressage diva, Max is Lyndsey's best friend and she truly believes hard work beats talent.
Max is a 14 year old, 14.2 Chestnut Welsh Section D gelding who Lyndsey has owned for eleven years. She bought him with the original view of showing him however due to Max being unwell at the age of five with liver problems, he is now on a strict diet and they compete in British Dressage instead. Currently, Lyndsey and Max compete at Medium level whilst training at Advance Medium at home. Lyndsey has her sights set on one day riding a Prix Saint George test together. She describes Max as a typical welsh pony; very cheeky with a bubbly personality, strong willed, slightly crazy, full of self-importance but very loyal and such fun to be around.
George is the new boy! He is a bay 15.2, 7 year old Spanish PRE stallion. George is still very green and has a lot to learn, but he is showing great potential. He has never been in a dressage ring and will need work getting him competition ready. Lyndsey describes George as a scaredy-cat so will work on building his confidence as she believes that once he gains confidence, he will definitely be one to watch out for!
Plans for 2021
Qualify for Petplan Equine Area Festivals at Medium with Max.
Ride the new Medium freestyle with Max, and to Advanced Medium by year end 2021
Go on some beach rides (Max loves beach rides!)
Build on George's fitness, relaxation, understanding and confidence, strengthening our relationship
Take George to lots of training away from home and build on his confidence hacking
Compete some prelim tests with George, with the aim of qualifying novice and novice freestyle
Plans for 2020
Qualify for Petplan Equine Area Festivals at Elementary or Medium.
Ride their new Medium freestyle
Ride to Advanced Medium by year end 2020
Go on some beach rides (Max loves beach rides!)
Plans for 2019
Although Lyndsey has already qualified for the Petplan Equine Area Festivals at Medium level, she aims to qualify for another Area Festival this year.
Have a go at Elementary and Medium freestyle to music.
Aim for the Riding Club Dressage teams.
Aim for the Hertfordshire county dressage team.
Qualify for the BD Native Championships at Elementary and Medium (normal and freestyle).
Continue with training towards higher Medium tests and Advanced Medium!
Preparing for a Competition with Lyndsey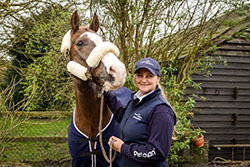 Petplan Equine Ambassador Lyndsey Ryder didn't always plan to compete at British Dressage and had her sights set on showing instead, however when Max became unwell with liver problems, Lyndsey changed track to focus on their dressage career together. This year, Lyndsey once again aims to compete in the Petplan Equine Area Festival series.
Lots of hard work goes into getting ready for any competition. Lyndsey shares her top tips for preparing to compete, including tips on learning and practising your test, turn out and tackling those competition day nerves. You can also check out our guide to tried-and-tested ways to get you horse looking their best before a show or competition with our Turnout Tips guide below.
Lyndsey's Top Tips for Mentally Preparing for Competitions