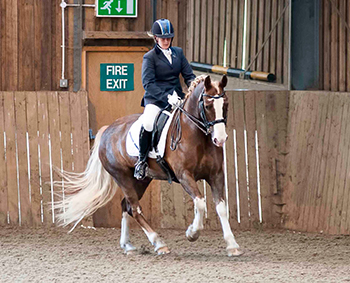 Lyndsey - Petplan Equine Ambassador
We all want the best for our equine friends and for me, being insured with Petplan Equine means I do not have to worry about the cost of any unexpected veterinary fees that occurs. For that I am eternally grateful.
Lyndsey Ryder is from Hertford and competes in dressage with her Welsh section D called Max. Though he might not be your average dressage diva, Max is Lyndsey's best friend and she truly believes hard work beats talent.
Max is a rising twelve year old, 14.2 Chestnut Welsh Section D gelding who Lyndsey has owned for nearly ten years. She bought him with the view of showing however due to Max been unwell at five with liver problems, he is now on a strict diet and they compete in dressage. Max is a typical welsh pony; very cheeky with a bubbly personality, strong willed, slightly crazy, full of self-importance but very loyal and such fun to be around.
Plans for 2019
Although Lyndsey has already qualified for the Petplan Equine Area Festivals at Medium level, she aims to qualify for another Area Festival this year.
Have a go at Elementary and Medium freestyle to music.
Aim for the Riding Club Dressage teams.
Aim for the Hertfordshire county dressage team.
Qualify for the BD Native Championships at Elementary and Medium (normal and freestyle).
Continue with training towards higher Medium tests and Advanced Medium!
Ambassador updates 2018
Ambassador updates 2017