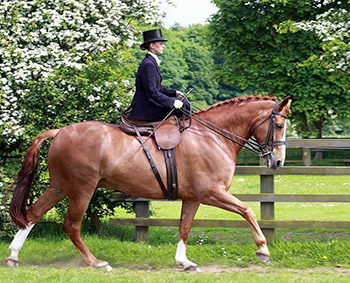 Rachael - Petplan Equine Ambassador
I have always insured my horse with Petplan Equine and would not choose anyone else. They offer an excellent service and have been brilliant with the claims I have had over the past 10 years.
Rachael Jayne Barker is from Nottingham and rides in many disciplines with an interest in side saddle. To Rachael, responsible ownership is not only the daily management and care but also long term management and planning for 'what may come'.
Rachael is a McTimoney equine manipulator and independent saddle fitter. Rachael owns 3 horses and one coloured pony. Sleet, her oldest horse at the age of 18, is now semi-retired due to arthritic changes and mild kissing spine syndrome. Lord Gale (Lordie), now 14, is an Irish Thoroughbred, retired racehorse. Tristan, the traditional coloured pony, is now 5 years old and continues to impress with his life-loving attitude, following surgery to remove his left eye after suffering with Uveitis. Goodmans' Gift (Blee), owned by Goodman Corporate Finance, is a 6 year old Irish Sport Horse, who joined the team in 2018. Last but not least, Kingsclough Masquerade (Marcus), owned by Amanda Chatfield, is Rachael's side saddle ride.
Plans for 2019
After a quiet 2018 due to injury, Rachael's first and most important aim is to stay sound and injury free in 2019!
To return to side saddle in full fitness, and contest the Novice Equitation side saddle championships with Marcus. They also aim to continue with the county show circuit and make their Royal Windsor debut in 2019.
To get Lordie out to ROR classes at county level, and continue his dressage progression up he levels to novice by the end of the year.
Tristan will continue with some local level in-hand and lead rein ridden classes but is also going to be broken to drive.
Blee, after a delayed start to his career, will be out and about combined training and aiming for his first event season.
Sleet's soundness and comfort will continue to be a priority, with the hope of some little dressage or mini jumping trips out in the summer to keep him entertained and happy.
Ambassador updates 2018
Ambassador updates 2017
National Side Saddle Championships
Ambassador updates 2016
Ambassador updates 2015
Rachael's guide to side saddle