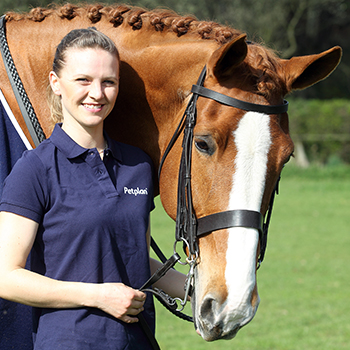 Rachael - Petplan Equine Ambassador
I have always insured my horse with Petplan Equine and would not choose anyone else. They offer an excellent service and have been brilliant with the claims I have had over the past 10 years.
Rachael Jayne Barker is from Nottingham and rides in multiple disciplines with an interest in side saddle. To Rachael, responsible ownership is not only the daily management and care but also long term management and planning for 'what may come'.
Rachael is a McTimoney equine manipulator and independent saddle fitter. Rachael owns 4 horses and has one other side saddle ride on Amanda Chatfield's Kingsclough Masquerade (Marcus):
Sleet, Rachael's oldest horse at the age of 20, is now retired due to arthritic changes and mild kissing spine syndrome. She fully intends to keep him active, comfortable and entertained, but this may no longer involve ridden work
Lord Gale (Lordie) is a 14 year old Irish Thoroughbred, who has started carrying a side saddle during the summer of 2020.
My Little Wing Man (Tristan) is a traditional coloured pony and is now 7 years old. He continues to impress with his life-loving attitude. He has no eyes, after having them removed separately (18months apart) due to Uveitis, which developed into Glaucoma. He still loves going out competing, even going to Aintree in 2019 for 11th place in the Stars Championship.
Goodmans' Gift (Blee), owned by Goodman Corporate Finance, is an 8 year old Irish Sport Horse, who joined the team in 2018. So far he has excelled in dressage, always in the ribbons, and showing great promise to event.
Kingsclough Masquerade (Marcus), owned by Amanda Chatfield, became Rachael's side saddle ride 5 years ago, and continues to progress with Side Saddle Equitation.
Plans for 2021
Get out! Getting the horses out and about any away from home may be challenging in 2021, but Rachael intends to make the most of every opportunity.
Kingsclough Masquerade is stepping up to Advanced Medium dressage with his owner, so Rachael is aiming to keep up his side saddle career at County shows, with the aim of qualifying him for the Side saddle National Equitation championships again, and beating thier placing in 2019 when it last ran.
Goodmans Gift has stepped up his dressage and they are now competing strongly at Novice. Rachael aims to advance to elementary in the second half of 2021. However her main focus with Blee is to get him out eventing, which was the original plan for him.
Tristan has had an entire year off in 2020, with no county shows running. For 2021, Rachael hopes to return him to fitness with groundwork and get him back out competing at county level in the TGCA (traditional gypsy cob association) classes, with hope of qualifying for the National championships.
Lord Gale has started carrying the side saddle and so far had taken to it well. Rachael's aim for him is to build his side saddle education and get him out to a few shows with it, with a look to also taking him to the National champs and competing in some show horse classes. Rachael says it would be a great personal achievement to get a horse like him, who struggled to turn a circle on arrival, to carry and be successful in the side saddle arena.
Sleet will remain spoiled! Being treated like the king he is, and enjoying his time in the field with his friends.
Plans for 2020
Aim to qualify and compete at the Side Saddle National Show in the Equitation Championships with Marcus. Rachael is determined to not only perform a quality equitation test, but also a smooth show jumping round
To attempt some 'sideways dressage' at the Nationals this year
To event Blee who is on good form to start eventing this year. She also plans to compete in pure dressage with Blee, and is aiming for the Petplan Equine Area Festivals
Aims to compete Tristan at the TGCA (Traditional gypsy cob association) championships. He qualified in 2019, but unfortunately it clashed with the 2019 Side Saddle Nationals so she hopes to make it this year!
Although Lordie is now mainly ridden by Sophie Neil, Rachael will still be involved in his schooling and flatwork and plans to get a side saddle on him later in the season
Plans for 2019
After a quiet 2018 due to injury, Rachael's first and most important aim is to stay sound and injury free in 2019!
To return to side saddle in full fitness, and contest the Novice Equitation side saddle championships with Marcus. They also aim to continue with the county show circuit and make their Royal Windsor debut in 2019.
To get Lordie out to ROR classes at county level, and continue his dressage progression up he levels to novice by the end of the year.
Tristan will continue with some local level in-hand and lead rein ridden classes but is also going to be broken to drive.
Blee, after a delayed start to his career, will be out and about combined training and aiming for his first event season.
Sleet's soundness and comfort will continue to be a priority, with the hope of some little dressage or mini jumping trips out in the summer to keep him entertained and happy.
Rachael's Guide to Side Saddle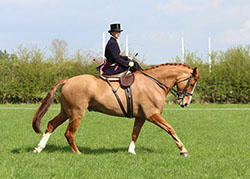 The practice of riding side saddle has been dated back to before the 14th century and requires the use of a different style of saddle, and therefore a different seated position. Rachael reminds us that when getting started in side saddle riding, "finding the right kit and training for yourself and your horse can seem a challenge, but I can assure you that it is worth the effort and you must remember to enjoy it!"
Interested in giving riding side saddle a go? Read Rachael's guide to find out more about the sport and how to get started.