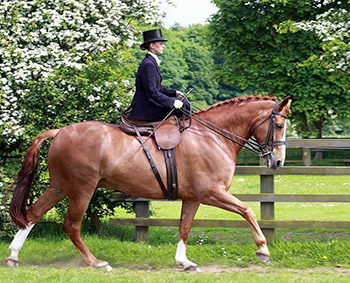 Rachael - Petplan Equine Ambassador
I have always insured my horse with Petplan Equine and would not choose anyone else. They offer an excellent service and have been brilliant with the claims I have had over the past 10 years.
I've been counting the weeks since my broken ankle, and the progress its been making (or not in some cases!)
It hasn't exactly been the summer I planned, but with horses, nothing every really goes to plan. Post-break it was tough; refusing to admit there was anything wrong with me and still trying to sort the horses as best I could. By day three, I was exhausted! Crutches and horses don't mix and getting shavings up your cast isn't inducive of a good nights sleep! Thankfully, I have a fantastic support network of fabulous friends and family, which were all on hand to help out and take over.
Through every stage of my recovery The National Side Saddle Championships were always my aim. The doctors originally said it would be 12 weeks before I was out and about again, which took me to the week before the Nationals, so I set about building a plan to get as fit and ready as possible so we could go!
Thankfully I had already gained enough points in the Equitation to qualify, so that wasn't a worry. As soon as my cast came off rehab began! It all started with lots of flexing and resistance work, building the strength back up in my muscles, and regaining some sort of range of motion.
A series of resistance bands, heel raises, and pelvic lifts on my toes saw improvement, but I was still struggling with actually walking. As a physio myself, I decided to draw on my own knowledge, and one I'm always recommending to customers is hydrotherapy! So, with the supervision of #equestridad, we went to the local pool. After hobbling in and being rather cautious, I spent 20 minutes just walking, from one side of the pool to the other. The resistance of the water worked my muscle, and helped build my strength, but the weightlessness the volume of water gave allowed me to fully 'weight bare' on my ankle. The result in just one session is amazing! So over the course of the next few weeks we continued to go 'swimming'. I even graduated to complete widths of toe walking! Which I still can't do on dry land!
When I was able (and allowed) to ride, we took Marcus to our usual practice venue, Scropton RDA. My first session on board was very brief; I felt I had no core strength and was very unfit. So more pool work and some shallow squats on my half ball at home began! The following week, we went back for another session. I felt much better, stronger and a lot more like me! Walk, trot and canter achieved! Our next practice session was to be our last before Nationals. I rode through my test a few times and felt I had really gained and achieved!
Nationals week came, we trucked down with Marcus, got him settled and had an early night. Saturday didn't quite go as planned. We started at 5am, allowing us plenty of time to plait Marcus, get him 'equitation clean' and ready and also get myself dressed and ready to equitation standard. This is high! No dirt, no untidiness, everything has to be absolutely perfect – no excuses! With a good warm up and armed with my lovely new habit, we went round to the arena. Marcus had gone so well until this point but disaster struck! He needed a wee! Marcus is well known for this; if he needs a wee, he just goes into first gear and that's where he stays! Bless him!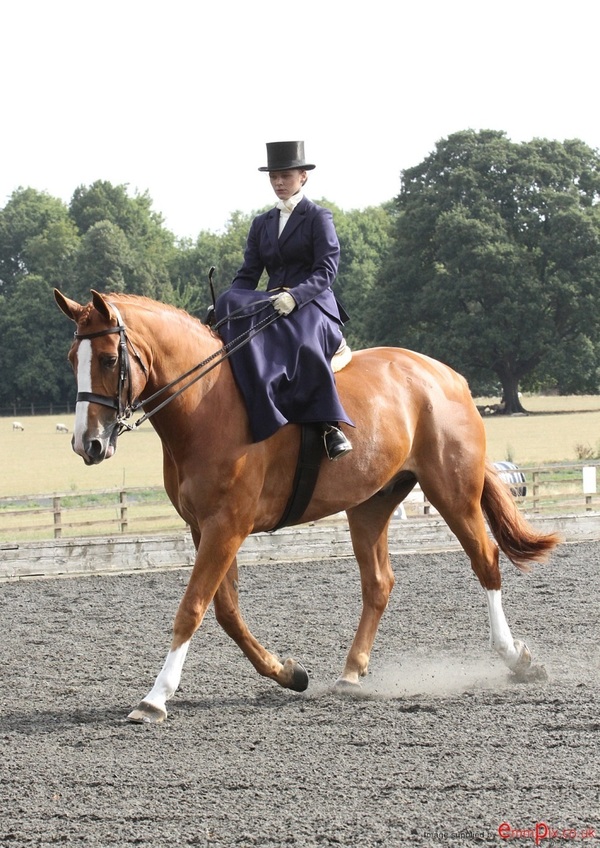 Marcus at The National Side Saddle Championships
I went into the arena, the bell went, and I had to begin, regardless of what Marcus' bladder was doing. He became very behind the leg and quite hard to ride with a sub-par ankle! My test then went from my issue, to someone else's issue, as someone came down the driveway next to our arena with a very rattly trailer, closely followed by a massive tractor/digger coming from behind the hedge, right in the middle of our free walk!
These things happen but at such a big venue, that's obviously busy with horses, why wouldn't people be more courteous? Riders train hard, practice, and want to do well, and it's disheartening when things like this affect your already stressed self!
Our results were always going to be 'of unknown expectation'. We had a such a great year last year, I hoped to do well but it was not to be scores wise, with an 8th. In hindsight, it was an ok test. I have to remind myself I'd only just started riding aside again (and still couldn't ride astride to be honest!) and that after a lot of time off and minimal practice, we made it there and managed to compete! My score sheets reflected my injury; not weight baring in my stirrup enough meant I was tipping and twisting in my seat. I will get there – there is always next year!
Marcus was a very good boy for our whole trip, he helped me back in the saddle, and back out competing and I can't wait to get training again and push ourselves for Nationals 2019!
The boys, my band of merry equines, have had a fantastic summer! With me off, they essentially managed to swing nearly three months as field ornaments!
I started out trying to work them on the lunge, have friends come and ride, and generally try and stay on top of them but with the heat increasing and the lack of rain, the ground quickly became very hard.
Sleet has been my rock, allowing me to hack and trundle about, building my confidence back up and being the wonderful horse he's always been.
Tristan has had solid time off. With me not being to walk, let alone run with him, Lexi has been unable to ride him, and I haven't wanted to lunge him on the hard ground.
Lordie has been struggling with intermittent lameness over the past few months, brought on by the hard ground. After a trip to the vets for x-rays, he was diagnosed with 'mechanical laminitis', so has been shod slightly differently but is still not sound, so he's going back for further investigation!
Blee has been a challenge for me; mentally rather than physically. I made a choice not to get back on him until after Nationals, just in case. I started him back with some ride and lead with Sleet, to help build his fitness back up, and get him used to being a working horse again. After a few sessions out, I braved it, tacked up, got on, and trundled around. We walked and did some little trots, nice and steady and did lots of turns and circles to keep him entertained. He never put a foot wrong. Over the past few weeks I've ridden him a few times and only recently we went out for our first solo hack!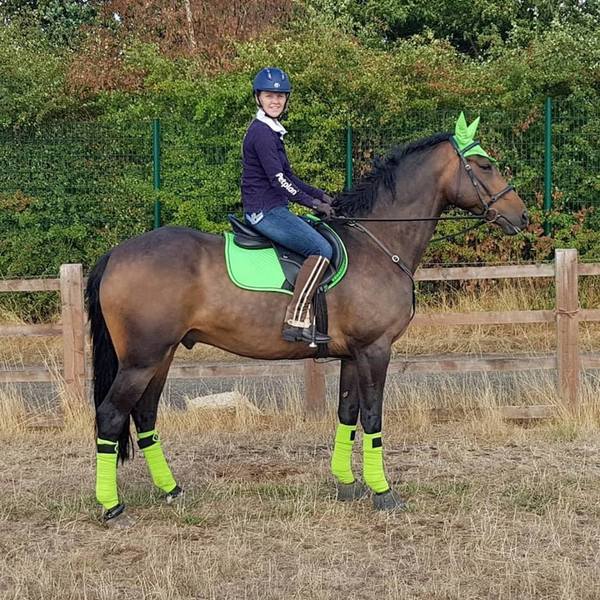 Back on board Blee!
Like I say, it more of a mental thing than a physical. Although I am technically healed in my ankle (even though it doesn't bend and flex as much as I'd like), for some reason I developed a mental block about getting back on Blee. Pre-break he had never done anything wrong, we schooled, hacked, cantered round open fields, jumped but I think because I'd had such a substantial injury, combined with not been able to get back on straight away, it had festered in my head!
I'm glad to say, I'm finally getting my mojo back with him and all the others!
Here's to the next few months of training, schooling, and eventually jumping!