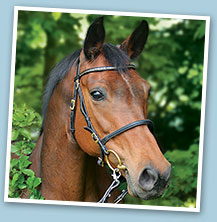 Press room
2017 press releases
Posted: 06/04/17
GASTRIC ULCERS AMONGST THE TOP FIVE CLAIMS FOR PETPLAN EQUINE
Specialist UK horse insurance provider Petplan Equine publishes data on the Top Five most claimed for conditions in the last year. Gastric Ulcers now appear in the Top Five with claims increasing by 36% when compared to 2015.
Arthritis is in top position as it was in 2015 and Cushings Disease has fallen from fourth in the table out of the Top Five. Desmitis (Inflamed Ligament) has maintained fifth place, but with an increase in payout of 54% more than in 2015.
Gastric Ulcers
"Gastric Ulcers can be very painful for a horse," comments Petplan Equine's Veterinary expert Gil Riley MRCVS. There are many clinical signs, the painful areas in the lining of the stomach can reduce appetite or make it inconsistent. The coat can become dull and the temperament subdued and tetchy.
Ridden exercise in particular can exacerbate the symptoms and cause the stomach acid to splash onto the ulcer so the horse does not enjoy being ridden, sometimes this can be misinterpreted as lameness or back pain. Diagnosis is made by your vet performing a Gastroscope on the horse, where a small camera is passed down the food pipe to look at the stomach lining. Management and feeding adjustments should be made as your vet advises and your horse will be put on a medication that can lead to a full resolution of the ulcers within four weeks."
Petplan Equine – Most common claims
| Conditions ranked in order of the number of claims | Condition | Amount Petplan Equine paid in claims in 2016 | 2015 ranking |
| --- | --- | --- | --- |
| 1 | Arthritis | £631,848 | 1 |
| 2 | Colic | £656,643 | 2 |
| 3 | Gastric Ulcers | £736,937 | N/A |
| 4 | Laminitis | £352,256 | 3 |
| 5 | Desmitis | £519,267 | 5 |
| | | £2,896,952 | |
What horse owners say
38.6% of horse owners surveyed said their horse had suffered from an illness or injury in the last 12 months. The top concern of owners is the possibility of a road traffic accident and their second concern is paying for veterinary bills, both of which are regularly commented on across social media and in magazines. Charlotte Gibbs, Senior Marketing Executive for Petplan Equine said, "There is no better justification for appropriate equine insurance than the figures for the Top Five claims made. As a company we pay out nearly £1million each month in claims, so only around 24% of our total claims are made up of the Top Five. Our customers have made the responsible decision to insure their horses and are in a position to seek early veterinary care without worrying about the costs.
"The diagnosis of Gastric Ulcers is a perfect example of how much a vet's advice and support is required to detect a condition and to treat it quickly and efficiently."
To find out more about Petplan Equine's Top Five claims and get expert advice from Gil Riley MRCVS on spotting the signs and treatment options visit www.petplanequine.co.uk/top5.
ENDS
---
EDITORS NOTES
Petplan Equine offers comprehensive insurance cover for horses and ponies aged from 30 days old. Established over 25 years ago, Petplan Equine understands the evolving equestrian market and strives to enhance knowledge and understanding of the equine world through employing horse enthusiasts and working closely with the equine industry.
Petplan Equine is part of the Petplan brand. Founded in 1976, Petplan is the UK's largest pet insurance provider, offering comprehensive cover for dogs, cats, rabbits and horses.
For further information visit www.petplanequine.co.uk/ambassadors
For more information on Petplan Equine visit www.petplanequine.co.uk
Follow Petplan Equine on social media:
Facebook www.facebook.com/PetplanEquineUK
Twitter @PetplanEquine
YouTube www.youtube.com/user/PetplanUK
Petplan Equine enquiries: for further information, please contact:
Kate Hopkins at Petplan Equine by email kate.hopkins@allianz.co.uk or call 0208 707 8335
Petplan Equine Media enquiries: for further information, please contact:
Bridget Jennings or Amy Garland at JB Promotions by email: petplan-equine@jbpromotions.co.uk or call 01458 250 200