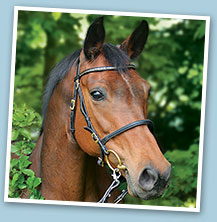 Press room
2017 press releases
Posted: 04/05/17
12 YEAR-OLD STAFFORDSHIRE DRESSAGE RIDER IS AWARDED PETPLAN EQUINE HIGH ACHIEVER 2017
Holly Clark, from Dunstall near Burton-on-Trent in Staffordshire has won the Petplan Equine High Achiever Award for her performance in the Preliminary Bronze Championship with Newoak Truffle at the annual Petplan Equine Area Festival Championships held at Hartpury College, Gloucestershire from 12 – 16 April 2017.
Petplan Equine, one of the UK's specialist equine insurance providers, created the High Achiever Award to recognise the outstanding achievement of the horse and rider combination which achieves the highest overall percentage score across all Petplan Equine Championships.
Holly, with Newoak Truffle scored an excellent 75.49% to achieve equal 12th place overall and at her first ever Championships. The prize for winning the Petplan Equine High Achiever Award is a five-day intensive training course with the highly acclaimed Gloucestershire-based AM Dressage, owned and run by leading international riders and trainers Adam Kemp FBHS and Matt Frost. A leading establishment specialising in the training of dressage horses and riders of all levels and abilities, AM Dressage regularly holds sell-out residential three and five day intensive training clinics such as that won by this year's high achiever.
Holly qualified for the Championships at the Petplan Equine Area Festival held at Field House Equestrian Centre, Marchington near Uttoxeter in August 2016. This was Holly's first attempt at a Petplan Equine Area Festival at the Preliminary Bronze level and after achieving a score of 76.88% she was on her way to the Championships. "I really enjoyed going to the Petplan Equine Area Festival Championships for the first time this year. I can't believe that I have won such a special prize while I was there! I take my pony to lots of things throughout the year including pony club events when I can. I love doing dressage with Joby (Newoak Truffle) and he really tries so hard. Jane Critchley trains me, but I can't wait to go on the training course at AM Dressage and see what I can learn there. We always have lots more work to do to become better and I would like to try to qualify for the Championships again this year! I am really grateful for such an amazing opportunity!"
AM Dressage's Adam Kemp FBHS congratulated Holly on her accomplishment and said: "We very much look forward to welcoming Holly and Newoak Truffle to AM Dressage. It's hard to believe that at 12 years old Holly can achieve this level of competition – we are very much looking forward to the training course. We are always surprised how the standard at the Area Festivals improves every year."
Petplan Equine has sponsored the Area Festivals for 18 years and is looking to the future with an even bigger competition for 2017/18. A whole new class for under-18 riders has been introduced in response to a British Dressage membership survey. As more young riders become seriously involved in the sport it is a perfect place for Holly to continue her dressage career.
27 Area Festivals will take place throughout the summer of 2017 from which qualification for eight Area Festival Finals can be achieved with the Championships taking place at Hartpury College, Gloucestershire in April 2018.
Kate Hopkins, Marketing Executive at Petplan Equine, added: It is always very exciting to see combinations of this quality compete at the Area Festival Championships but at 12 Holly is clearly a very talented rider. I'd like to congratulate Holly on her fantastic success in becoming our newest Petplan Equine High Achiever. We will watch this combination's progress with interest and wish them the very best of luck for the future."
British Dressage's Chief Executive Jason Brautigam said: "I'm so impressed with the quality of participation in the Petplan Equine Area Festivals series. To see Holly reach this level at her age is a real accomplishment. As the Petplan Equine Area Festivals grow in 2017/18 we will no doubt see even more exciting new combinations at all levels in a competition which is accessible to all. Petplan Equine's sponsorship of this entire series of events gives opportunities to riders at all levels to reach for the stars."
Further information about the Petplan Equine Area Festivals and how to qualify for next year's finals is available from the Petplan Equine website at: www.petplanequine.co.uk/area-festivals
ENDS
---
EDITORS NOTES
Petplan Equine offers comprehensive insurance cover for horses and ponies aged from 30 days old. Established over 25 years ago, Petplan Equine understands the evolving equestrian market and strives to enhance knowledge and understanding of the equine world through employing horse enthusiasts and working closely with the equine industry.
Petplan Equine is part of the Petplan brand. Founded in 1976, Petplan is the UK's largest pet insurance provider, offering comprehensive cover for dogs, cats, rabbits and horses.
For further information visit www.petplanequine.co.uk/ambassadors
For more information on Petplan Equine visit www.petplanequine.co.uk
Follow Petplan Equine on social media:
Facebook www.facebook.com/PetplanEquineUK
Twitter @PetplanEquine
YouTube www.youtube.com/user/PetplanUK
Petplan Equine enquiries: for further information, please contact:
Kate Hopkins at Petplan Equine by email kate.hopkins@allianz.co.uk or call 0208 707 8335
Petplan Equine Media enquiries: for further information, please contact:
Bridget Jennings or Amy Garland at JB Promotions by email: petplan-equine@jbpromotions.co.uk or call 01458 250 200