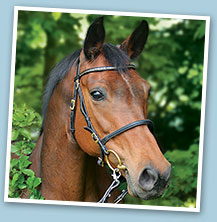 Press room
2009 press releases
Posted: 27/08/09
Dressage Trainer Adam Kemp Joins Lucinda Green on Petplan Equine's yourstables.co.uk
Petplan Equine today announced the launch of its short dressage advice video by highly sought after trainer Adam Kemp FBHS which will be available for equine enthusiasts on www.yourstables.co.uk from 2nd September 2009.
Adam Kemp is a Fellow of the British Horse Society and one of an elite group of teachers who passed the Society's specialist dressage section of the fellowship exams. The video is designed to inspire and support riders preparing for the Petplan Equine Area festivals which are celebrating their 10th anniversary this year.
In this six-chapter video Adam shares with viewers his extensive experience, giving tips on how to best prepare for and execute a dressage test. Adam commented: "Not everyone is lucky enough to ride top horses so the film has been designed to help riders at all levels on horses of all types gain those all important extra marks. These lessons can also be applied to the other disciplines as dressage is the basis of them all. There is always something to learn with horses and I hope these videos will prompt people to explore new ways of doing things."
Adam joins former world eventing and six times Badminton Champion Lucinda Green, who also features on the website. Lucinda currently fronts www.yourstables.co.uk and presents a video guide to buying a horse which is also available to view online.
In addition to the video content there is a new a series of downloadable articles that focus on how to prepare for winter and ensure your horse is adequately rugged and fed in the cold months that lie ahead. Equine Lawyer, Jacqui Fulton provides all important legal advice and there are new money saving offers in the Rewards Room.
Alison Andrew, Petplan's Marketing Manager, commented: "We are committed to providing visitors to www.yourstables.co.uk with access to regularly up-dated, invaluable information and offers that will help them to provide their horses with the best possible care and get the most enjoyment from their riding."
As one of the UK's leading equine insurance providers Petplan Equine is focused on the welfare of horses and seeks to provide owners with all the information needed to keep their horse healthy and happy. The new additions to yourstables.co.uk have made it a valuable point of reference offering extensive advice and information on all aspects of horse ownership.
For further information please contact Andrea Worrall at The GPC (01608) 654040 or e-mail panda@thegpc.co.uk
For further information on Petplan Equine contact Kate Mallett in the press office on (0208) 580 8194 or e-mail kate.mallett@allianz.co.uk
Notes to Editors:
Petplan Equine was founded in 1988
It is part of Allianz Animal Health, the largest provider of animal health insurance in the world and part of Allianz � one of the largest general insurers in the UK
In addition to horse and pony insurance options, Petplan Equine provides dedicated products for veteran horses and rider only insurance cover
It is the sister brand of Petplan, the largest provider of small animal insurance in the UK
Allianz Animal Health handled more than 375,000 claims in 2006, over 7,200 per week and paid out approximately £2.4 million in claims per week
Petplan Equine believes in supporting the equine community and provides more financial support to equestrian sports and activities than any equine insurance provider in the UK
The Pet Plan Charitable Trust was founded in 1994 to raise much needed funds for animal welfare and veterinary projects. Money is raised by Petplan and Petplan Equine customers giving an optional £1.50 to the Trust when they take out or renew their policy. To date, almost £5 million has been awarded by the Trust
Petplan and Petplan Equine are specialist insurers. As such, the company employs more horse riders and owners than any other and more former veterinary practice staff than any other to ensure the provision of specialist knowledge