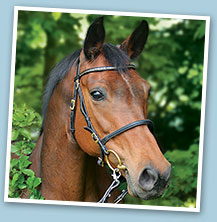 Press room
2010 press releases
Posted: 16/04/10
Devon rider scoops up at the Petplan Equine Area Festival Finals.
Devon rider and BBC South West Presenter Janine Jansen has scooped two National titles and the Petplan Equine High Achiever Award at the Petplan Equine Area Festival Finals. As the rider with the highest overall percentage in the final round at this year's Finals Janine won a five day intensive training course with leading trainer Adam Kemp thanks to a new initiative by AM dressage and leading equine insurance provider Petplan Equine.
Janine not only won the Petplan Equine Elementary Open Area Festival Championship on her 8 year old intermediate eventer Velocity IV with a score of 70.74% but she also won the Petplan Equine Novice Open Championship on the same horse with a score of 72.59%. This made it her second win and secured Janine the Petplan Equine High Achiever Award.
Last year, an initial entry of over 2600 combinations entered the Area festivals, from which more than 350 qualified combinations competed in the tenth annual Petplan Equine Area Festival Finals. The finals took place at Hartpury Arena in Gloucestershire during the British Dressage Winter Championships which were held from 7th to 11th April. Riders from all over the UK competed over five days for the ten Petplan Equine Area Festival Final titles ranging from Petplan Equine Area Festival Preliminary Champion to the Petplan Equine Area Festival Prix St George Champion.
Adam Kemp FBHS and partner Matt Frost run AM dressage at their Gloucestershire yard where Janine will receive a tailored course to suit her needs. The Petplan Equine High Achiever Award includes accommodation and meals, initial assessment, shared and individual lessons, test riding and lectures in sports psychology. In addition Janine will be given a Petplan Equine numnah and jacket.
Janine Jansen said, "After I won the Petplan Elementary Open I heard the commentator talking about the Petplan high achiever prize, and I decided I really wanted to win such a fantastic opportunity. So I tried my absolute best to score a really good score in the Petplan Novice Open and spent all weekend hoping and praying I had done enough!"
Alison Andrew, Marketing Director of Petplan said, "The Petplan Equine Area festivals showcase the great depth of dressage talent that is out there. We are very proud to have been associated with the Petplans over the last 10 years and this new high achiever award is a great way for us to be able recognise a standout performance."
Adam Kemp FBHS said, "I'm thrilled that Janine has won this unique prize with Petplan Equine. It's a great achievement and I look forward to training her and Velocity IV at our base in Gloucestershire."
For more information please contact the Petplan press office on:
Petplan Equine is the UK's leading horse insurance provider offering a wide variety of flexible horse insurance and rider insurance policies which cater for all levels of experience.
Established more than 20 years ago, Petplan Equine is part of Allianz Insurance, one of the largest general insurers in the world.
For more information about a Petplan Equine horse insurance policy, please visit:
petplanequine.co.uk/insurance/quote.asp