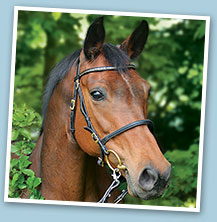 Press room
2015 press releases
Posted: 21/04/15
Dorset dressage rider wins Petplan Equine Area Festivals Championship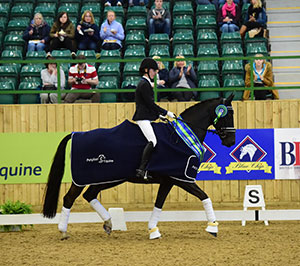 Rebekah White riding Lord Robin, winners of the Petplan Equine Area Festival Novice Restricted Championship
Following qualification at Kingston Maurward in Dorset, Rebekah White from Hazelbury Bryan in Dorset has won the Petplan Equine Novice Restricted Championship of the Petplan Equine Area Festival Finals on Lord Robin. These prestigious grassroots championships were held alongside the NAF Five Star Winter Dressage Championships at Hartpury College, Gloucestershire from 15th – 19th April 2015.
Riding Lord Robin, an 8 year-old gelding, owned by Shirley Errington, Lord Robin impressed the judges who awarded the combination a winning score of 70.65% in the Novice Restricted Championship from among 58 horse and rider combinations.
"We didn't gel when first partnered together as he is quite spooky and sharp", said Rebekah of the handsome, black Loxley gelding, but when paired again 18 months ago and under the knowledgeable eye of Hannah, the combination qualified confidently for the Winter Championships at Kingston Maurward Area Festival with a second place in a strong class.
Rebekah found the two-round format advantageous after a spooky start in round one, "It was good to ride the same test twice. In the first round he spooked in the trot, but was much more settled in the second test."
"We prepared (for the Winter Championships) by going to the Keysoe U25 high profile show in March, we had a mixed result as we came first and last!" laughed Rebekah, "Keysoe was his first stay away show making him more relaxed for today's atmosphere". Lord Robin proved to be much more consistent this weekend however, and Rebekah hoped Lord Robin would continue his good behaviour when they compete in the Prelim Area Festival Championship today."
Now in their 16th year, the Petplan Equine Area Festivals give riders across the levels from Prelim to Intermediate I the chance to experience the thrill of competing in true championship conditions, in a relaxed and friendly environment. More than 3,680 (an increase of 32% on last year's series) grassroots dressage riders from all over the UK competed at 19 Petplan Equine Area Festivals across the country from July to November 2014, for a chance to qualify and compete for one of the coveted titles.
British Dressage's Chief Executive Jason Brautigam said: "Since taking up the reins at British Dressage, I have been impressed with the success and popularity of the Petplan Equine Area Festivals series, which is most definitely one of the jewels in our calendar. Thanks to Petplan Equine's on-going support of these championships, which goes above and beyond their sponsorship contribution, the series has seen a staggering 32% increase in participation year on year and next year we are adding a further three venues to the series."
Charlotte Collyer, Senior Marketing Executive at Petplan Equine, added: "We are delighted to see how important the Area Festivals have become to amateur and aspiring dressage riders. Not only have we witnessed a meteoric rise in the number of combinations competing over the past year, with the introduction last year of Intermediate I classes, the popularity is clearly matched by the rising talent at grass roots level. We are delighted to be part of a series which provides the perfect showcase and celebrates the talent that is out there. We would especially like to congratulate Rebekah White on her fantastic win and wish her the very best of luck for the future."
Further information about the Petplan Area Festivals and how to qualify for next year's finals is available from the Petplan Equine website at: www.petplanequine.co.uk/area-festivals/area-festivals.asp.
For more information please contact:
Petplan Equine offers comprehensive insurance cover for horses and ponies aged from 30 days. Established 25 years ago, Petplan Equine understands the evolving equestrian market and strives to enhance knowledge and understanding of the equine world through employing horse enthusiasts and working closely with the equine industry.
Petplan Equine is part of the Petplan brand. Founded in 1976, Petplan is the UK's largest pet insurance provider, offering comprehensive cover for dogs, cats, rabbits and horses.
Note to editors:
Media enquiries: for further information, please contact:
Andrea Worrall at The GPC by email: [email protected] t: (01608) 654040