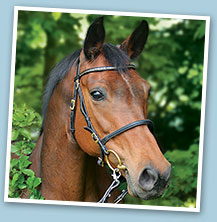 Press room
2015 press releases
Posted: 23/04/15
Hertfordshire-based dressage rider is awarded Petplan Equine high achiever 2015
Welwyn Garden City-based rider Kate Rowland has scooped the Petplan Equine High Achiever Award for her performance in the Novice Open Final with her young horse, Erasmus, at the 16th annual Petplan Equine Area Festival Champtionships held at Hartpury Arena, Gloucestershire from 15th – 19th April 2015.
Petplan Equine, the UK's specialist equine insurance provider, created the High Achiever Award to recognise the outstanding achievement of the horse and rider combination who achieves the highest overall percentage score across all Petplan Equine championship classes at Area Festival Finals.
Riding her own and Roland Tong's (trainer) six year old Dutch bred gelding, Erasmus (Rupert), Kate scored a winning 76.08% in the Petplan Equine Novice Open Area Festival Final class. The combination outshone the competition by almost five percentage points in a class filled with quality combinations - the top six all breaking the 70% barrier. The finals marked just the sixth competition for the six-year-old KWPN gelding, known as Rupert, who Kate says she's been 'taking slowly' since she bought him as a four and a half year old.
Kate's prize for winning the Petplan Equine High Achiever Award is a five-day intensive training course with the highly acclaimed Gloucestershire-based AM Dressage, owned and run by leading international riders and trainers Adam Kemp FBHS and Matt Frost. A leading establishment specialising in the training of dressage horses and riders of all levels and abilities, AM Dressage regularly holds sell-out residential three and five day intensive training clinics such as that won by this year's high achiever.
Kate has ridden Erasmus, under the guidance of trainer and co-owner Roland Tong, since he was broken two years ago. "We're very excited about his future," exclaimed Roland. "He's still very green and the Petplan Area Festivals are the perfect opportunity to help build the confidence of a horse like him when in the arena.".
Commenting on her result, Kate said 'To win feels fab, really good!" "Although I went in just wanting him to have a nice time with no pressure, I knew it was a good test as soon as I came out of the arena. He was a little too sharp in the first test but settled in the second to not only secure first place but also help us clinch this coveted Petplan Equine High Achiever Award which we are thrilled about" she exclaimed. "We really think we have a star of the future in Rupert but we are being careful not to rush him. He is very much a normal horse at home; he goes out in the field, hacks and does poles which keeps him relaxed and interested."
AM Dressage's Adam Kemp FBHS congratulated Kate on her win and said: "We will look forward to welcoming Kate and Rupert to AM Dressage. Since we began this initiative with Petplan Equine we have seen some fabulous High Achieving combinations come to us for further training - the standard at the Area Festivals improves immeasurably every year."
This year, their 16th year, the Petplan Equine Area Festivals gave more than 3,680 (a 32% increase on last year) riders across the levels from Prelim to Intermediate I the chance to compete in true championship conditions.. Petplan Equine Area Festivals held across the country from July to November each year are qualifiers for the finals held the following April.
Charlotte Collyer, Senior Marketing Executive at Petplan Equine, added: "It is exciting to support a series that provides the perfect showcase and celebrates the talent that is out there. We would especially like to congratulate Kate Rowland on her fantastic win in the Novice Open final and for becoming our newest Petpaln Equine High Achiever. We will watch this combination's progress with interest and wish them the very best of luck for the future."
British Dressage's Chief Executive Jason Brautigam said: "Since taking up the reins at British Dressage, I have been impressed with the success and popularity of the Petplan Equine Area Festivals series, which is most definitely one of the jewels in our calendar. Thanks to Petplan Equine's on-going support of these championships, which goes above and beyond their sponsorship contribution, the series has seen a staggering 32% increase in participation year on year and next year we are adding a further three venues to the series."
Further information about the Petplan Area Festivals and how to qualify for next year is available from the Petplan Equine website at: www.petplanequine.co.uk/events/dressage.asp
Further information on clinics at AM Dressage can be found at www.amdressage.com and click on Intensive Courses.
For more information please contact:
Petplan Equine offers comprehensive insurance cover for horses and ponies aged from 30 days. Established 25 years ago, Petplan Equine understands the evolving equestrian market and strives to enhance knowledge and understanding of the equine world through employing horse enthusiasts and working closely with the equine industry.
Petplan Equine is part of the Petplan brand. Founded in 1976, Petplan is the UK's largest pet insurance provider, offering comprehensive cover for dogs, cats, rabbits and horses.
Note to editors:
Media enquiries: for further information, please contact:
Andrea Worrall at The GPC by email: [email protected] t: (01608) 654040