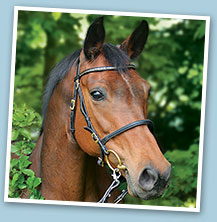 Press room
2011 press releases
Posted: 23/08/11
Leahurst vet reaches final of ´Petplan Equine Vet of the Year Award´
Local vet, Dr Catherine McGowan, from the University of Liverpool, Leahurst in Cheshire, has been chosen as one of just three finalists for this year's Petplan Equine Vet of the Year Award. Now into its fourth year, the winner of this prestigious people's award, which is sponsored by the UK's specialist equine insurance provider Petplan Equine, will be announced at the glittering 23rd Animal Health Trust (AHT) Equestrian Awards Ceremony on Thursday 3rd November 2011.
Catherine graduated as the number one student in her class from the University of Sydney in 1991 and has since furthered her education, both in Sydney and the UK, to complete a Masters of Veterinary Physiotherapy, Masters of Animal Physiotherapy and a Diploma in Equine Internal Medicine. As well as gaining extensive qualifications, Catherine has carried out research into Equine Cushing's Disease, Equine Metabolic Syndrome, physiotherapy, physiology, gastric ulceration and endocrinopathic laminitis, and has played a lead role in the progression of equine medicine.
Catherine was selected as a finalist because she has excelled as a clinician and academic researcher and she is regarded as an outstanding veterinary surgeon with the highest of standards. As well as carrying out her veterinary duties, with two small children Catherine still manages to run a busy household as well as travelling internationally to give talks on endocrinopathic laminitis as an invited speaker.
"I am very flattered to be nominated for this award," said Catherine. "I have been fortunate to be in a position to indulge my passion for equine health and welfare, especially in the areas of preventable diseases like laminitis and muscle disease, in my clinical work as well as in my academic pursuits. To be recognised for the work I do is a lovely honour."
Horse owners from all over the UK have been nominating vets who they feel are worthy of the prestigious title of Petplan Equine Vet of the Year. With over 185 nominations the independent judging panel had a difficult job choosing just three finalists. However, this year's judges David Stickels, Head of Fundraising at the Animal Health Trust, Alison Bridge, Editor in Chief of Horse&Rider Magazine, Deidre Carson, President of the British Equine Veterinary Association (BEVA) and Gil Riley, 2009 Petplan Equine Vet of the Year, now have an even tougher job choosing a winner.
"It was an incredibly difficult job for the judges to choose just three finalists," said Petplan Equine Director, Neil Brettell. "Once again we were very impressed by the nominations we received, which described the great level of calibre and the outstanding contributions all nominees have made to the equine community to keep horses healthy, particularly our finalists. It has been inspiring to read the submissions and see the incredible commitment shown by equine vets across the UK."
The Animal Health Trust Equestrian Awards are designed to recognise the amazing achievements made by horses, riders, owners and trainers in the equestrian world, and Petplan Equine has always had a strong link with the awards and the Trust. Since the Petplan Charitable Trust was founded in 1994, it has raised over £5 million, of which almost £500,000 has been donated to the AHT helping to fund research and development.
Horse welfare is of the utmost importance at Petplan Equine and as the UK's specialist insurance provider, the company is dedicated to promoting responsible horse ownership through its charitable contributions, wide range of policies and initiatives such as the informative equine resource website, www.yourstables.co.uk.
The winner will be posted on www.petplanequine.co.uk on Friday 4th of November 2011.
For more information please contact the Petplan press office on:
Note to editors:
The Petplan Equine Census was conducted in spring 2010. An online questionnaire was filled in by over 1700 UK horse owners.
*ONS 2007
Petplan Equine was founded in 1988
It is part of Allianz Animal Health, the largest provider of animal health insurance in the world and part of Allianz – one of the largest general insurers in the UK
In addition to horse and pony insurance options, Petplan Equine provides dedicated products for veteran horses and rider only insurance cover
It is the sister brand of Petplan, the largest provider of small animal insurance in the UK
Petplan Equine believes in supporting the equine community and provides more financial support to equestrian sports and activities than any equine insurance provider in the UK
The Pet Plan Charitable Trust was founded in 1994 to raise much needed funds for animal welfare and veterinary projects. Money is raised by Petplan and Petplan Equine customers giving an optional £1.50 to the Trust when they take out or renew their policy. To date, almost £5 million has been awarded by the Trust
Petplan and Petplan Equine are specialist insurers. As such, the company employs more horse riders and owners than any other and more former veterinary practice staff than any other to ensure the provision of specialist knowledge
Petplan Equine is the only insurer to offer illness and accident cover for older horses, up to the age of 25 as long as the policy is taken before your horse reaches the age of 20.