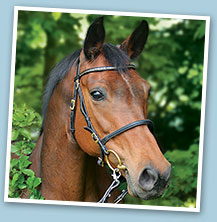 Press room
2008-2003 press releases
Posted: 29/10/08
Local vet nominated for Petplan Equine Vet of the Year Award
Local vet Mark Lingard of Moy Farm Vet Centre in Out Rawcliffe, near Preston in Lancashire has been selected as one of the three finalists for the inaugural Petplan Equine Vet of the Year Award.
The winner of this new and prestigious people's award, which is sponsored by Petplan Equine, one of the UK's leading equine insurance providers, will be announced at the glittering 20th annual Animal Health Trust (AHT) Equestrian Awards ceremony to be held at London's Royal Lancaster Hotel on the evening of Thursday 6th November 2008.
Owners and riders were asked nominate their local equine vet for the award if they felt that they were deserving of the recognition that this accolade would bring. A short list was drawn up from the nominations received and an independent panel has selected the finalists. Mark Lingard was nominated for rescuing a horse that fell down a cattle grid, landing on its owner in the process. He showed true dedication and commitment, nursing the horse back to health on a daily basis as well as demonstrating superb veterinary care in a crisis.
His grateful client Rebecca Anstiss explained how Mark's dedication and care helped to nurse the badly injured animal back to full fitness. "Mark tended and dressed Tiffany's legs and underside nearly every day for six weeks and then came to check her progress weekly and bi-weekly during the many months of box rest that followed. Tiffany recovered and went on to be my fabulous jumping pony. Mark is my miracle vet!"
Mark Lingard was typically modest when told of his nomination: "I'm thankful for the recognition and honoured to be in this position on behalf of all hardworking vets in the North," he said.
This year marks the 20th anniversary of the Animal Health Trust Equestrian Awards, which recognise the outstanding achievements made by horses, riders, owners and trainers throughout the equestrian world. This milestone coincides with Petplan Equine's 20th anniversary and, since 1994 when the Petplan Equine Charitable Trust was founded, it has raised over 5£5 million, almost £500,000 of which has been donated to the AHT to fund research and development.
Jo Whittaker of Petplan Equine says: "It has been a privilege to be involved with the AHT Awards over the years. We are particularly excited to be able to recognise the amazing hard work and commitment of people within the equine veterinary profession and those who provide outstanding service to horse owners. We received some very strong nominations and selecting just three was not easy although, in the case of the finalists it was clear that each consistently went beyond the call of duty."
The winner will be posted on www.petplanequine.co.uk on Friday 7th November.
For further information, please contact:
Sophie Parker at Petplan Equine on (0208) 580 8140
or email sophie.parker@allianz.co.uk
OR
Andrea Worrall at The GPC on 01608 654040
or email panda@thegpc.co.uk