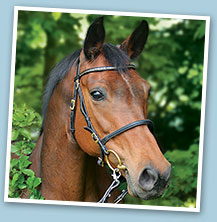 Press room
2008-2003 press releases
Posted: 29/10/08
Local vets nominated for Petplan Equine Vet of the Year Award
Two of the three finalists for the inaugural Petplan Equine Vet of the Year Award are from veterinary practices in Essex, a resounding vote of confidence for the standard of equine healthcare in the county. Andrew Dobson of The Barn Equine and Large Animal Practice in Great Wakering and Mark Murrell of Platt and Murrell in Sandon, Chelmsford were nominated for the award by their clients and then selected as finalists from a short list by an independent panel of equine experts.
The winner of this new and prestigious people's award, which is sponsored by Petplan Equine, one of the UK's leading equine insurance providers, will be announced at the glittering 20th annual Animal Health Trust (AHT) Equestrian Awards ceremony to be held at London's Royal Lancaster Hotel on the evening of Thursday 6th November 2008.
Andrew Dobson qualified in 1999 and for the last four and a half years has run his own practice. "The nomination came as a bolt from the blue," he admitted. "I'm very pleased, touched really that I've received recognition in this way for the work that I do! They say if you do a job that you love you don't work a day in your life."
Andrew was nominated by a number of his grateful clients, who described him as: "A true professional with a very caring approach; an exceptionally good vet - always putting the horse first, Andy works way beyond the call of duty; I cannot recommend Andy highly enough and would like to see him given recognition for being a dependable, down-to-earth vet."
Mark Murrell was nominated primarily for the way in which he dealt with an outbreak of the serious equine disease 'strangles' at a local livery yard. According to one of his clients who had two horses stabled at the yard: "Mark showed the utmost dedication. As well as caring for the horses he was also there for a lot of worried horse owners. If it wasn't for his well thought out actions and his thorough testing, professionalism and skill we could still have been contaminated now. I feel I am doing the best I can by both my horses through having Mark Murrell as my vet."
Mark Murrell commented: "I'm totally overwhelmed and feel it's totally undeserving. We were able to combat the outbreak of strangles on this yard of around 60 horses as effectively as we did thanks to the cooperation of several vets and the horse owners themselves, who worked tirelessly to implement the latest guidelines from the Animal Health Trust for tackling the disease. The yard management was very supportive and very understanding and wanted to get the problem solved. The treatment was made a lot easier by the people on the yard. I am delighted to be nominated and delighted that a close friend - Andrew Dobson - has been as well."
This year marks the 20th anniversary of the Animal Health Trust Equestrian Awards, which recognise the outstanding achievements made by horses, riders, owners and trainers throughout the equestrian world. This milestone coincides with Petplan Equine's 20th anniversary and, since 1994 when the Petplan Charitable Trust was founded, it has raised over £5 million, almost £500,000 of which has been donated to the AHT to fund research and development.
Jo Whittaker of Petplan Equine says: "It has been a privilege to be involved with the AHT Awards over the years. We are particularly excited to be able to recognise the amazing hard work and commitment of people within the equine veterinary profession and those who provide outstanding service to horse owners. We received some very strong nominations and selecting just three was not easy although, in the case of the finalists it was clear that each consistently went beyond the call of duty."
The winner will be posted on www.petplanequine.co.uk on Friday 7th November.
For further information, please contact:
Sophie Parker at Petplan Equine on (0208) 580 8140
or email sophie.parker@allianz.co.uk
OR
Andrea Worrall at The GPC on 01608 654040
or email panda@thegpc.co.uk