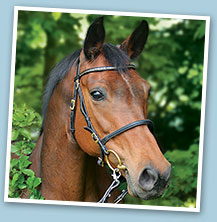 Press room
2011 press releases
Posted: 08/06/11
Making the most of insurance
In tougher economic times insurance might be one thing on which you are tempted to spend as little as possible, but if you don't have the right cover, it could end up being a costly waste of money. Stuart Geeves, Marketing Development Manager for Petplan Equine, the UK's specialist equine insurer, provides a guide on how to make insurance work for you.
When considering equine insurance, perhaps the most important first step to take is to go to a specialist provider. As the type of activity we do with every horse is different, the levels of risk for each horse varies considerably, consequently a "one-size fits all" approach does not work when it comes to equestrian insurance.
A specialist insurer can help make sure you have a policy that suits your needs so you only pay for the cover you actually require, as they will have a strong understanding of owners' needs and should be able to offer tailored levels of cover to match those needs. For example, an event horse is exposed to greater risk of injury than is a leisure horse so this should be reflected in the policy. Otherwise, leisure riders end up paying more than they should for insurance and eventers could find they are under insured when it comes to making a claim.
According to a recent survey by Petplan Equine, the greatest concern for horse owners is the fear of rising vet fees which can quickly run into thousands of pounds. Having adequate insurance in place gives you the peace of mind that comes with knowing that your horse can be treated quickly and professionally without the worry of how to pay for it. It is important to bear in mind that many conditions can be mild if caught early but can become very serious if a vet is not consulted.
It is also a good idea to check whether the policy covers diagnostics and complementary therapy and whether there is an upper limit placed on what they will pay out.
An area where costs can spiral out of control is that of third party liability. As a horse owner, you can be held legally liable if your horse is involved in an accident that results in serious injury or death to another person or damage to their property, even if you are not at fault.
If you ride horses other than your own, consider a rider only policy that provides third party liability insurance and covers you in the event of an incident while you are riding a horse that doesn't belong to you.
Theft of tack and equipment, loss of use, disposal and personal accident cover are other options you may wish to consider when taking out an equine insurance policy.
Your insurance needs may change over time so find out if the insurer will allow you to adapt your policy to meet changing needs. For example, if you decide to retire your horse from competition, you will want to reduce the level of cover for which he is insured. Conversely, if you have taken out your policy in the summer and then decide to hunt in the winter, you will need to upgrade your policy accordingly. Equally, as your horse enters its mid teens, check the policy with regard to older horses. Unlike Petplan Equine who covers horses for illness as well as injury up to the age of 25 providing they are insured by their 20th birthday, most insurers will only provide limited cover for horses after they reach the age of around 15 or 16.
It is during the claims process where having a specialist provider really comes into its own because the claims advisors speak your language and can empathise with your situation.
If you want to be sure that an insurance company is going to be there for you when you need it most, ask about its claims record. What percentage of claims do they pay out on and how quickly? It is important to know where you would stand in the event of a major claim. Will your insurer pay the vet directly? If you are expected to pay, how quickly will you be refunded?
Of course, insurance is optional and, in tough economic times, it may be tempting to take the risk and avoid it. However, even the healthiest horse can become ill, injured or cause an accident and the associated costs can escalate to levels most would find difficult to pay without adequate provision in place. The difference in premiums charged by the insurers usually reflects the different levels of cover and it is important to ensure that you understand what is covered and what is not. If in doubt, consult an independent insurance broker or obtain quotations and compare the levels of cover and service offered. Be careful not to rely on price comparison websites which can sometimes be misleading.
For further information about Petplan Equine, visit www.petplanequine.co.uk or call 0330 102 1658.
For more information please contact the Petplan press office on:
Petplan Equine is the UK's leading horse insurance provider offering a wide variety of flexible horse insurance and rider insurance policies which cater for all levels of experience.
Established more than 20 years ago, Petplan Equine is part of Allianz Insurance, one of the largest general insurers in the world.
For more information about a Petplan Equine horse insurance policy, please visit:
petplanequine.co.uk/insurance/quote.asp
Note to editors:
The Petplan Equine Census was conducted in spring 2010. An online questionnaire was filled in by over 1700 UK horse owners.
*ONS 2007
Petplan Equine was founded in 1988
It is part of Allianz Animal Health, the largest provider of animal health insurance in the world and part of Allianz – one of the largest general insurers in the UK
In addition to horse and pony insurance options, Petplan Equine provides dedicated products for veteran horses and rider only insurance cover
It is the sister brand of Petplan, the largest provider of small animal insurance in the UK
Petplan Equine believes in supporting the equine community and provides more financial support to equestrian sports and activities than any equine insurance provider in the UK
The Pet Plan Charitable Trust was founded in 1994 to raise much needed funds for animal welfare and veterinary projects. Money is raised by Petplan and Petplan Equine customers giving an optional £1.50 to the Trust when they take out or renew their policy. To date, almost £5 million has been awarded by the Trust
Petplan and Petplan Equine are specialist insurers. As such, the company employs more horse riders and owners than any other and more former veterinary practice staff than any other to ensure the provision of specialist knowledge
Petplan Equine is the only insurer to offer illness and accident cover for older horses, up to the age of 25 as long as the policy is taken before your horse reaches the age of 20.