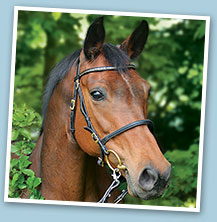 Press room
2010 press releases
Posted: 25/10/10
Finalists Announced for the Petplan Equine Vet of the Year Award 2010

Petplan Equine, the UK's specialist equine insurer, in association with Horse&Rider Magazine, is pleased to announce the three finalists for the third annual Petplan Equine Vet of the Year Award 2010.
Nearly 200 nominations were received for this prestigious people's award, which is sponsored by Petplan Equine. The winner will be announced at the glittering 22nd Animal Health Trust (AHT) Equestrian Awards ceremony to be held at The Lancaster London, on the evening of Thursday 4th November 2010.
The finalists are:
David Denny, an experienced mixed practice vet who runs his own veterinary surgery in Worcester
Judy Scrine from the Mayes and Scrine Equine Veterinary Practice in Warnham, Sussex
Vincenzo Franco, specialist equine vet, operating in Goole, Yorkshire
Horse owners from all over the UK nominated their vets as those who they felt had gone above and beyond the call of duty. A short list of three finalists was then drawn up and a winner will be selected by an independent panel consisting of; David Stickels, Head of Fundraising AHT, Alison Bridge, Editor-in-Chief of Horse&Rider Magazine, Madeleine Campbell, President of the British Equine Veterinary Association (BEVA), Gil Riley, 2009 Petplan Equine Vet of the Year and Alison Andrew, Petplan Equine Marketing Manager.
"It was incredibly difficult choosing just three finalists," said Alison Andrew, Petplan Equine Marketing Manager. "The nominees this year have again been genuinely outstanding. It is a great privilege to read the nominations and see the incredible commitment shown by equine vets across the UK."
David Denny, B.Vet.Med MRCVS, has run his own general veterinary practice in Worcester for over forty years. He comes from a family of vets and was inspired to join the profession by his grandfather, great uncle and uncle. David believes being a vet should be seen as a way of life rather than a business and prides himself on running a small personal practice. The judges were particularly impressed with his years of experience in carrying out diagnoses and his commitment to always putting the welfare of the horse first. David is so committed to his job that he even treated a horse on the day of his daughter's wedding!
Judy Scrine, MA VetMB MRCVS, from the Mayes and Scrine Equine Veterinary Practice in Sussex first decided she wanted to be an equine vet at the tender age of three and has never deviated from her path since. She was horse mad as a child and has continued that interest into her professional life. After qualifying from Cambridge in 1991, Judy gained ten years of equine veterinary experience before joining Ben Mayes to set up a specialist equine practice in 2001. She also does charity work for the Gambia Horse and Donkey Trust. The judges were impressed with Judy's professional manner, her thorough knowledge in equine welfare and her willingness to go above and beyond the call of duty on a day to day basis.
Vincenzo Franco DVM MRVCS qualified in Italy having wanted to be a vet from childhood. He combined his passion for horses with his profession and has worked exclusively on horses for nearly 20 years, the first 14 of which were spent working with racehorses. Vincenzo joined a large practice when he moved to the UK before then setting up on his own in Goole, Yorkshire in October 2009. The judges were pleased to hear that Vincenzo is always calm under pressure and has a perfect bedside manner with all horses. They were impressed to hear from clients that Vincenzo explains everything in full detail and, importantly, in laymen's terms.
The Animal Health Trust Equestrian Awards are designed to recognise the outstanding achievements made by horses, riders, owners and trainers throughout the equestrian world and once again there have been some remarkable individuals among the nominees for the Petplan Equine Vet of the Year Award. Since the Petplan Charitable Trust was founded in 1994 it has raised over £5 million, almost £500,000 of which has been donated to the AHT to fund research and development.
Horse welfare is paramount at Petplan Equine and as a leading insurance provider the company is committed to promoting responsible horse ownership, through its charitable contributions, wide range of policies and initiatives such as the informative equine resource website, www.yourstables.co.uk. This award has been created to give the equine community the opportunity to acknowledge and celebrate the vet who has made the most outstanding contribution to the care of horses.
The winner will be posted on www.petplanequine.co.uk on Friday 5th November.
For more information please contact the Petplan press office on:
Petplan Equine is the UK's leading horse insurance provider offering a wide variety of flexible horse insurance and rider insurance policies which cater for all levels of experience.
Established more than 20 years ago, Petplan Equine is part of Allianz Insurance, one of the largest general insurers in the world.
For more information about a Petplan Equine horse insurance policy, please visit:
petplanequine.co.uk/insurance/quote.asp