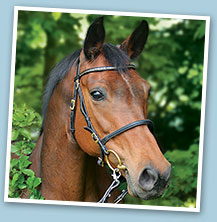 Press room
2008-2003 press releases
Posted: 10/09/03
Insure Petplan Equine and collect Air Miles
Petplan Equine, continuing their commitment to putting more into equine welfare in sport than any other insurer, has teamed up with AIR MILES, the unique travel company to reward owners who take out a new insurance policy for their horse.
An amazing 300 AIR MILES are available to all who phone Petplan Equine and set up a brand new policy for their horse. This great offer coincides with Petplan's redesigned small animal offer, increasing miles available to 150 AIR MILES for a new rabbit policy, 180 AIR MILES for a cat and 225 AIR MILES for a dog.
Fiona Pinkney, Communications Manager for Petplan says, "The scheme has been running successfully for over a year now on our pet products and we felt it was time we offered the same benefit to our Equine customers. We see it as a fabulous opportunity for new customers to begin collecting AIR MILES and reap the many benefits available through this scheme".
AIR MILES can take you all over the world, with over 1 billion AIR MILES being flown last year alone. Flights start from as little as 450 AIR MILES per person for a return flight from London to Paris.