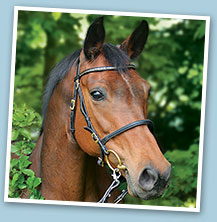 Press room
2008-2003 press releases
Posted: 25/10/07
ANIMAL HEALTH TRUST UNITED KINGDOM EQUESTRIAN AWARDS 2007 HEADLEY BRITANNIA WINS PETPLAN EVENTING AWARD
London: November 2, 2007 The diminutive Headley Britannia, winner of this year's Badminton Horse Trials, received another accolade at last night's Animal Health Trust United Kingdom Equestrian Awards 2007 in London, when she was announced as the winner of the Petplan Equine Eventing Award.
The 14 year old chestnut known as Brit was the first mare since 1956 to win Badminton, having also won Burghley Horse Trials in 2006. In a glittering ceremony, dubbed the Oscars of the horse world, at the Royal Lancaster Hotel her owner/rider Lucinda Fredericks received the award from Gareth Jones, General Manager of Allianz Speciality Division.
The Petplan Equine Eventing Award is given to the individual or horse that has made the most outstanding contribution to eventing during the year. Nominations from the sport of eventing are considered by the Equestrian Awards' steering committee of Desi Dillingham, Sarah Gallagher, Bunny Roberts, Vanessa Leaver, Jan Wade and James Blackshaw.
Lucinda Fredericks "It was not expected, but I was hoping for Brit's sake that she would win as she does deserve it. It's quite an achievement for a little chestnut mare. We are very proud to receive the Petplan Equine Eventing Award and we are very much looking forward to next year."
Headley Britannia was bred by Mike and Betty Hounsell at Headley Stud and sired by Jumbo, the stallion who was competed successfully at advanced level by Andrew Nicholson and has produced top class eventers, dressage horses and Grade A show jumpers. Despite her small stature, 'Little Brit' as she is affectionately known, has become renowned for her courage, scope and agility and led from start to finish at Badminton to clinch the title in scintillating style.
Having been travelling reserve for the Australian team at the World Equestrian Games in 2006, Headley Britannia and Lucinda will be bidding for a place in the team for the 2008 Beijing Olympic Games. In the meantime 'Little Brit' has produced two embryos by the show jumping stallion, Jaguar Mail, to be born out of recipient mares, on loan from Twemlows Hall Stud.