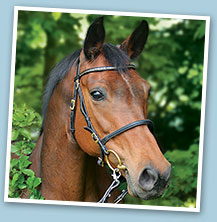 Press room
2008-2003 press releases
Posted: 01/07/03
New look for Petplan Equine website
Petplan Equine, has relaunched its website, www.petplanequine.co.uk, to provide an increasingly user-friendly resource facility.
Catering specifically for horse owners and the riding community and featuring stylish black and white photography, the site has been overhauled to make applying for equine insurance easier than ever before.
Under a new strapline 'Sharing The Care of your Horse' the new site clearly details each of Petplan Equine's three insurance policies. The standard Horse Insurance policy provides immediate cover for horses of all types and abilities, from hacking to polo. Whilst the Veteran Plan is a value for money package offering essential cover for horses and ponies aged from 17 to 29 years. Regular riders who do not own their own horse can ensure they are fully protected against personal injury, emergency vet fees and loss or theft of riding equipment under Petplan Equine's Rider Plan.
With online transactions now accounting for 15% of Petplan Equine's new business, the site features a quote engine and secure payment facility, allowing Petplan Equine to open for business 24 hours a day.
Making a claim is painless as site users can download claim forms in an instant. Whether claiming for vet fees, loss of use, death of a horse, loss by theft or straying, personal accident, theft of saddlery and tack - or damage to trailers and horse drawn vehicles, forms are available at the click of a button. Those making third party liability claims are directed to the customer call centre.
Whilst providing comprehensive horse insurance, www.petplanequine.co.uk also shares the fun of horse ownership. An events and community section provides details of the major upcoming equestrian events including Badminton and the Blenheim Petplan International Horse Trials as well as regional show jumping and dressage competitions and events.
Well aware that owning and caring for a horse is a huge commitment, Petplan Equine has produced a free user's guide 'Making Sense of Horse Insurance' offers comprehensive advice on all areas of equine insurance including how to choose the right insurance and the level of cover required, what's covered and what's not and answers to some of the most frequently asked questions. The complete guide can be accessed online and hard copies can be ordered.
David Keel, head of marketing for Petplan Equine, says: "With over 15 years experience in horse insurance, Petplan Equine is aware that ownership and insurance can often be complicated and daunting. The new site offers users an online experience that reflects our premier position in this marketplace by providing useful and comprehensive information in a clear and easy to use format."
To find out more about the services and products provided by Petplan Equine and it's guide to horse insurance, call free on 0330 102 1614