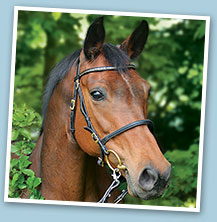 Press room
2008-2003 press releases
Posted: 01/12/05
Petplan Equine and Lucinda Green help you "Learn the Safe Way"
Petplan Equine is delighted to announce that it has renewed its sponsorship of the Lucinda Green "Learning the Safe Way".
Now in their 5th year, these clinics proved as popular as ever in 2005 as riders from across the UK enjoyed the benefit of Lucinda's extensive experience.
New for 2006, Lucinda will be holding Indoor Technique clinics throughout January. These are designed to teach safe riding technique over simulated cross country fences within an indoor arena. Lucinda will then be holding her 2 day clinics in February and March and one day clinics over the remainder of the year.
Suitable for Intro to Advanced event horses, horse and rider will get the chance to brush up their skills in a controlled environment ready for the eventing season. Places are limited so that Lucinda can give each participant as much individual attention as possible.
Jo Hardy attended "Learning the Safe Way" in 2005 and said, 'The clinic was amazing, Lucinda gave me some great tips and really boosted my confidence. After the clinic we were placed 10th at Milton Keynes Affiliated Intro & then 3rd at West Wilts. My horse Woody is doing really well and I can't wait to get out competing next season'.
If you would like to attend one of the 2006 clinics, visit www.Petplanequine.co.uk for an application form or send a self addressed envelope to Lucinda Green, Learning the Safe Way, Yew Tree Cottage, Upton, Andover, SP11 0JW. Remember places are limited so apply now.
Clinic dates 'NEW for 2006' -
Indoor Technique clinics (£60 per horse)
January 16th
Quob, Southampton
19th
Summerhouse, Gloucestershire
26th
Arena Uk, Lincolnshire
27th
Richmond, N.Yorkshire
30th
Myerscough, Lancashire
Two day clinics (£135 per horse)
February 7th/8th
Downlands, Wiltshire
13th/14th
Stockland Lovell, Somerset
22nd/23rd
Newton, Nottinghamshire
28th/1st
Milton Keynes EC
March 8th/9th
Milton Keynes EC
One day clinics (£70 per horse)
March 14th
Chedworth, Gloucestershire
May 10th
Ledbury, Herefordshire
June 28th
Pontispool, Somerset
September
19th Ledbury, Herefordshire
September
26th Carlton, Bedfordshire
-Ends-
For further information please contact: Petplan Equine Press Office on 020 8580 8194
Notes to Editors
Petplan Equine was launched in 1988 " Petplan Equine is a brand of Pet Plan Ltd, a subsidiary of Allianz Insurance Plc. Allianz Insurance Plc is the world's largest pet health insurer, insuring in excess of 800,000 animals and receiving over 1100 claims per day, paying out over £1 million each week