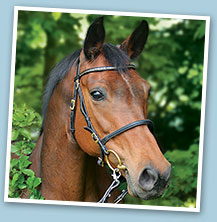 Press room
2008-2003 press releases
Posted: 21/04/08
Saddle up and burn those calories
Skip your step class, dump your dumb-bells and head for the hills on horse back
This summer, thousands of people nationwide will be making the most of the long summer days by 'taking up the reins' as part of the Petplan Equine National Riding Festival. Horse riding is not only an enjoyable way to make the most of the fresh air and summer sun, but also provides you with an excellent work out.
So, for that dream holiday body, ditch the fad diets and celebrity exercise videos and head into the great outdoors with a four-hoofed friend. Every hour spent in the saddle not only burns 400 calories, but will also tone inner thighs, stomach, arms and back and improve your posture. What's more, spending time on horseback in the fresh air will not only give your skin a boost of oxygen and vitamin D, but will also help you de-stress to boot!
The Festival, which is celebrating its 10th anniversary, runs from May until September and sees UK riding centres across the country throw open their doors to the public in an attempt to encourage more people into the saddle. The Festival provides a unique opportunity for people of all ages and abilities to experience horse riding for the first time, to learn about what's involved in caring for a horse and to watch a variety of stunning horse demonstrations, including vaulting and musical rides by local Pony Clubs.
If real horses are too daunting, Trigger the mechanical cantering horse, will also be available to ride throughout the duration of the Festival. A diary of his bookings for the summer can be found at www.nationalridingfestival.co.uk.
The British Equestrian Federation, Sport England, the UK's major equestrian associations and leading animal welfare charities, support the Festival, sponsored by Petplan Equine.
To find out more, or for details of your local riding centre, call the Petplan Equine National Riding Festival hotline on 0870 241 1481 or visit the website at www.nationalridingfestival.co.uk.
The following nine Open Days will be held throughout the country. Please visit www.nationalridingfestival.co.uk for more information.
| | | |
| --- | --- | --- |
| Date | Name of Centre | Location |
| Friday 30th May | Grove House Stables Equestrian Centre | Doncaster, Yorkshire, DN10 4H |
| Sunday 29th June | East Lodge Stables | Northampton, Northants, NN6 0QU |
| Sunday 6th July | Quob Stables Equestrian Centre | Southampton, Hants, SO32 2AR |
| Sunday 13th July | Wellington Riding School | Hook, Hants, RG27 0LJ |
| Sunday 20th July | Woodredon Riding School | Waltham Abbey, Essex, EN9 3SX |
| Sunday 17th August | Scottish Equi-Complex | Lanark, Scotland, ML11 9TA |
| Sunday 24th August | Mobberley Riding School | Mobberley, Cheshire, WA16 7LQ |
| Thursday 28th August | Liege Manor Equestrian | Bonvilston, Glamorgan, CF5 6TQ |
| Saturday 30th August | Middleton Equestrian Centre | Tamworth, Staffs, B78 2AT |
The National Riding Festival has HRH The Princess Royal as its President and is supported by the UK's major equestrian associations and leading animal welfare charities. The title sponsor is Petplan Equine, one of the UK's leading equine insurance providers founded in 1988. Petplan Equine believes in supporting the equine community and provides more financial support to equestrian sports and activities than any equine insurance provider in the UK.