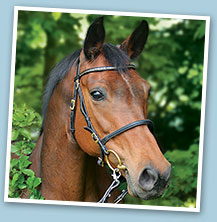 Press room
2011 press releases
Posted: 08/06/11
Scoping out the cost of treatment
When Katie Booth first noticed discharge from her ex racehorse's nostril, she expected that a couple of weeks on antibiotics would sort it out. What followed was a catalogue of related and unrelated events that generated vet's fees of over £9,000.
Katie tells the story in her own words:
Last April I bought an ex-racehorse, Blue, to sell-on over the summer. Some weeks later Blue started showing signs of discomfort whilst being ridden. Her nose started pouring with yellow mucus and so I quickly called the vet. Wanting a second opinion, my vet referred Blue to Edinburgh Veterinary Hospital where she was scoped and diagnosed with sinusitis. A week later the purulent discharge started again. Following scoping, we found a severe tooth abscess. Attempts to remove the tooth failed and further treatment under general anesthetic was then required. Diagnosis and treatment of Blue's symptoms resulted in her being scoped four times, two x-rays, four courses of antibiotics and anti-inflammatories and one operation.
Just when we thought that Blue was on the road to recovery she contracted a streptococcal infection at the suture site that required yet more treatment. She eventually came home after two months in hospital.
As Blue was finally coming back into work we noticed a swelling in her fetlock. Back at the vet's an x-ray identified a bone chip, which resulted in another costly operation under general anesthetic.
The total vets' fees exceeded £9,000. Out of this, thanks to insurance cover, I only had to pay for the hospital livery bill. If it wasn't for Petplan Equine, I would have probably have had to consider having Blue put down, but at what stage, I don't know, as what should have been a routine tooth removal turned into a series of serious illnesses no-one could have predicted.
I was so pleased I had taken out my policy with a specialist equine insurer because the team at Petplan Equine showed a full understanding of the case and provided excellent support, which helped us get through this awful time.
For further information on Petplan Equine please visit www.petplanequine.co.uk
For more information please contact the Petplan press office on:
Petplan Equine is the UK's leading horse insurance provider offering a wide variety of flexible horse insurance and rider insurance policies which cater for all levels of experience.
Established more than 20 years ago, Petplan Equine is part of Allianz Insurance, one of the largest general insurers in the world.
For more information about a Petplan Equine horse insurance policy, please visit:
petplanequine.co.uk/insurance/quote.asp
Note to editors:
The Petplan Equine Census was conducted in spring 2010. An online questionnaire was filled in by over 1700 UK horse owners.
*ONS 2007
Petplan Equine was founded in 1988
It is part of Allianz Animal Health, the largest provider of animal health insurance in the world and part of Allianz – one of the largest general insurers in the UK
In addition to horse and pony insurance options, Petplan Equine provides dedicated products for veteran horses and rider only insurance cover
It is the sister brand of Petplan, the largest provider of small animal insurance in the UK
Petplan Equine believes in supporting the equine community and provides more financial support to equestrian sports and activities than any equine insurance provider in the UK
The Pet Plan Charitable Trust was founded in 1994 to raise much needed funds for animal welfare and veterinary projects. Money is raised by Petplan and Petplan Equine customers giving an optional £1.50 to the Trust when they take out or renew their policy. To date, almost £5 million has been awarded by the Trust
Petplan and Petplan Equine are specialist insurers. As such, the company employs more horse riders and owners than any other and more former veterinary practice staff than any other to ensure the provision of specialist knowledge
Petplan Equine is the only insurer to offer illness and accident cover for older horses, up to the age of 25 as long as the policy is taken before your horse reaches the age of 20.