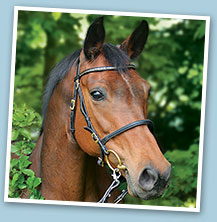 Press room
2010 press releases
Posted: 16/08/10
Time to show your vet how much you care
Despite an increase in alternative treatments and medicines, a recent survey carried out by Petplan Equine, the UK's leading equine insurance provider, found that the local vet is still the person that over 95% of horse owners turn to when they are concerned about their animal's health.
However, it is not often that horse owners have an opportunity to publicly express their gratitude and admiration for a job very well done by their vet.
Launched in 2008, the Petplan Equine Equestrian Vet of the Year Award recognises the dedicated and skilled work carried out every day by equestrian vets. Working with the veterinary profession is a vital element in Petplan Equine's business and this prestigious award provides the perfect opportunity for grateful horse owners to nominate the vet who shows exceptional skill and a level of service above and beyond the call of duty.
From those surveyed, only 7% of horse owners said that the potential costs of veterinary treatment have prevented them from calling the vet, which is testament to the importance of the veterinary profession within the equestrian community. This statistic also reflects the increasing number of horse owners who insure against veterinary fees to ensure they can provide the best care for their horse in the event of illness or injury without worrying about costs.
Nominations are now open for this year's Petplan Equine Vet of the Year Award and can be made online by visiting petplanequine.co.uk/vetawards
The title is currently held by Gil Riley, who is based at the Pool House Veterinary Hospital in Lichfield, Staffordshire after receiving glowing nominations from over 100 of his clients.
"I was extremely proud to be named Petplan Equine Vet of the Year for 2009. I enjoy my day to day work enormously so to receive any further recognition seems almost greedy, but to find the service I gave my clients was so appreciated by them was extremely humbling. As for my clients, I think they were really delighted that their Vet had won such a prestigious award," says Gil.
Nominations close on 3rd October 2010. An independent panel will judge the nominations and the winner of the award will be announced at the prestigious Animal Health Trust UK Equestrian Awards in London, on 4th November 2010.
For more information please contact the Petplan press office on:
Petplan Equine is the UK's leading horse insurance provider offering a wide variety of flexible horse insurance and rider insurance policies which cater for all levels of experience.
Established more than 20 years ago, Petplan Equine is part of Allianz Insurance, one of the largest general insurers in the world.
For more information about a Petplan Equine horse insurance policy, please visit:
petplanequine.co.uk/insurance/quote.asp