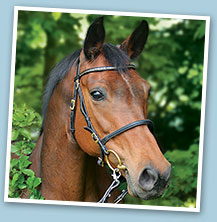 Press room
2009 press releases
Posted: 22/11/09
Staffordshire vet wins 'Petplan Equine Vet of the Year Award'
Gil Riley of the Pool House Veterinary Hospital in Lichfield, Staffordshire, has won the annual Petplan Equine Vet of the Year Award, in association with Horse&Rider magazine.  The Award was announced at the glittering 21st annual Animal Health Trust (AHT) Equestrian Awards gala dinner held at the Lancaster Hotel in London last night.
Horse owners from all over the UK nominated vets who had gone above and beyond the call of duty.  A short list of three finalists was then drawn up and the winner selected by an independent panel consisting of; Peter Webbon AHT Chief Executive and Equine Vet, Alison Bridge Editor-in-Chief of Horse & Rider Magazine, Chris House President of the British Equine Veterinary Association (BEVA) and Jo Whitaker Marketing Development Manager for Petplan.
Peter Webbon of the AHT said "We received a record number of nominations this year and the standards were incredibly high.  However, Gil was nominated by over 100 clients and we felt he was truly deserving of this award."
The glowing testimonials given by Gil's clients impressed the judges enough to give him the edge over his closest rivals for this coveted title.
"This award recognises the amazing hard work and commitment of people within the equine veterinary profession and those who provide outstanding service to horse owners," explained Alison Andrew, Marketing Manager for Petplan. "All the nominees this year were outstanding and it was very difficult to have to pick only three finalists let alone a winner. However, we felt Gil's dedication and commitment to caring for horses was outstanding and this was reinforced by the overwhelming support from his customers."
Susan Hubbard was among the clients to nominate Gil and said: "He has always been so sympathetic to both clients and equines.  He makes himself available on his mobile to any client who wishes to talk to him and he explains all procedures without superiority and in plain and simple language."
Gill joined the Pool House Veterinary Group and Equine clinic practice to expand his equine skills after working in a mainly agricultural practice in Wales and is jointly responsible for the Equine part of the Practice. He has subsequently been awarded the Royal College of Veterinary Surgeons Certificate in Equine Practice and he is particularly interested in lameness and laminitis.  He also recently acted as British Team Vet at the International Driving Trials in Germany.
"Everyday I feel like I'm pulling the greatest trick in that I get paid for doing what I love", commented Gil on receiving the award. "To receive further recognition with this award almost feels greedy. I'm tremendously flattered and indebted to all my clients who nominated me."
In his acceptance speech Gil praised his team for their dedication and support without whom, he said this would not have been possible. Special thanks went to his proud wife Emma on the evening of their fifth wedding anniversary.
This Animal Health Trust Equestrian awards are designed to recognise the outstanding achievements made by horses, riders, owners and trainers throughout the equestrian world. Since the Petplan Charitable Trust was founded in 1994 it has raised over £5million, almost £500,000 of which has been donated to the AHT to fund research and development. 
Notes to Editors:
For further information, please contact:
Kate Mallett at Petplan Equine on (0208) 580 8194 or email [email protected] OR Andrea Worrall or Caroline Smail at The GPC on 01608 654040 or email [email protected]
The other finalists were;
Alan Hough, GPCert (Eq),MVB, MRCVS,.grew up in the West of Ireland and was on the back of the horse at the age of five.  His life from then on revolved around horses and as the son of a vet he would go out on calls with his father whenever he could.  Alan went on to study to become a vet at University College Dublin and qualified in 2005.  He then went on to work in a mixed practice in South Devon until 2007 when he moved to the equine team of a practice in The New Forest.  During 2009 Alan has been a locum in various practices to generate enough income to open his own equine practice, hopefully next year.  Adam was awarded the General Practitioner Certificate in Equine Practice this summer and is enrolled to site the British Association of Equine Dental Technicians examination in 2010/2011. 
Ed Lyall, B Vet Med Cert EM (Stud Med), MRCVS, works for The Arundel Equine Hospital, West Sussex.  Ed was born in North Yorkshire where he grew up on an equestrian centre run by his parents.  From a young age he was exposed to most aspects of the equine competition horse world and became interested in stud medicine as his parents stood stallions at stud.  He graduated from the Royal Veterinary College, London University in 1994.  Ed Joined the Arundel Hospital in 1995 and was made a partner in 2002, he attained his Certificate in Equine Stud Medicine in 2000 and became and RCVS examiner in the subject in 2007.  A lot of Ed's time is taken up with all aspects of sport horse management and he works closely with riders to enhance the performance of their equine athletes. 
Petplan Equine was founded in 1988
It is part of Allianz Animal Health, the largest provider of animal health insurance in the world and part of Allianz - one of the largest general insurers in the UK
In addition to horse and pony insurance options, Petplan Equine provides dedicated products for veteran horses and rider only insurance cover
It is the sister brand of Petplan, the largest provider of small animal insurance in the UK
Allianz Animal Health handled more than 375,000 claims in 2006, over 7,200 per week and paid out approximately £2.4 million in claims per week
Petplan Equine believes in supporting the equine community and provides more financial support to equestrian sports and activities than any equine insurance provider in the UK
Sponsorships for 2008 include the Petplan Equine National Riding Festival, the British Dressage Area festivals, Lucinda Green "Cross Country the Safe Way" clinics
The Pet Plan Charitable Trust was founded in 1994 to raise much needed funds for animal welfare and veterinary projects. Money is raised by Petplan and Petplan Equine customers giving an optional £1.50 to the Trust when they take out or renew their policy. To date, almost £5 million has been awarded by the Trust
Petplan and Petplan Equine are specialist insurers. As such, the company employs more horse riders and owners than any other and more former veterinary practice staff than any other to ensure the provision of specialist knowledge
Petplan Equine is committed to promoting responsible horse ownership. It has produced a useful guide for horse owners or those thinking about owning a horse to help with everything from feeding to travel