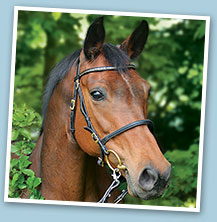 Press room
2011 press releases
Posted: 01/11/11
Survey reveals concern about riding on the UK roads
New research from Petplan Equine, the UK's leading specialist equine insurance provider, has revealed that 45 per cent of riders do not feel safe riding on the road. This figure could get even higher this winter with new vehicle registrations already up by seven per cent on last year.
While only four percent have been involved in a road traffic accident, more and more riders are being forced to ride on the road with large areas of the country lacking bridle paths and/or open countryside and nearly half of all riders feel that drivers aren't taking enough care when passing horses on the road.
But is it always the drivers fault? Surprisingly only 58 per cent of respondents had read the Highway Code in the previous five years and less than a third of respondents (29 per cent) had taken the BHS Riding and road safety Test while a number of younger riders admitted to phoning, texting and 'tweeting' while riding a horse.
Opinion was also divided on whether horse riders show enough consideration to other road users, with 39 per cent answering 'no' - a figure that rose to 57 per cent among the 35-44 year olds questioned.
The results also showed that geographically Scottish riders (75 per cent) felt that they showed good road sense while riders in the North West region faced the most problems with drivers and the volume of road traffic being more of a problem in the South East (48 per cent). Riders in the West Midlands struggle more for access to countryside (25 per cent) particularly in comparison with their East Midlands neighbours (12 per cent).
To encourage a safer approach to riding on the roads, Petplan Equine has produced a questionnaire to enable riders to check their road safety skills. All those who complete the quiz, which is designed to increase riders' awareness of how to ride more safely on the roads, will be entered into a free prize draw to win a selection of Hi-Viz equipment for horse and rider.
Petplan's Head of Marketing, Isabella Von Mesterhazy says it's really important that riders take all the right precautions when out on the roads this winter.
"At Petplan Equine we want to help keep both horse and riders safe on the road this winter and hopefully our quick quiz will help give them a few pointers on areas they need to be a bit more aware of when out hacking," says Isabella.
To try the quiz simply visit the Petplan Equine website at www.petplanequine.co.uk
For more information please contact the Petplan press office on:
Petplan Equine is the UK's leading horse insurance provider offering a wide variety of flexible horse insurance and rider insurance policies which cater for all levels of experience.
Established more than 20 years ago, Petplan Equine is part of Allianz Insurance, one of the largest general insurers in the world.
For more information about a Petplan Equine horse insurance policy, please visit:
petplanequine.co.uk/insurance/quote.asp
Note to editors:
Petplan Equine was founded in 1988
It is part of Allianz Animal Health, the largest provider of animal health insurance in the world and part of Allianz – one of the largest general insurers in the UK
In addition to horse and pony insurance options, Petplan Equine provides dedicated products for veteran horses and rider only insurance cover
It is the sister brand of Petplan, the largest provider of small animal insurance in the UK
Petplan Equine believes in supporting the equine community and provides more financial support to equestrian sports and activities than any equine insurance provider in the UK
The Pet Plan Charitable Trust was founded in 1994 to raise much needed funds for animal welfare and veterinary projects. Money is raised by Petplan and Petplan Equine customers giving an optional £1.50 to the Trust when they take out or renew their policy. To date, almost £5 million has been awarded by the Trust
Petplan and Petplan Equine are specialist insurers. As such, the company employs more horse riders and owners than any other and more former veterinary practice staff than any other to ensure the provision of specialist knowledge
Petplan Equine is the only insurer to offer illness and accident cover for older horses, up to the age of 25 as long as the policy is taken before your horse reaches the age of 20.