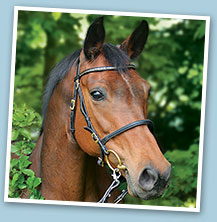 Press room
2015 press releases
Posted: 20/04/15
Wiltshire dressage rider wins Petplan Equine Area Festivals Championship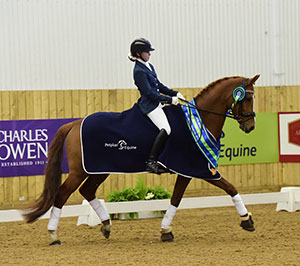 Abbie Newbury riding Amanda Royle's Comet II, winner's of the Petplan Equine `Area Festival Medium Restricted Championship
Following qualification at Burrows Court in Gloucestershire, 16 year old Abbie Newbury from Chippenham in Wiltshire has won the Petplan Equine Medium Restricted Championship of the Petplan Equine Area Festival Finals on Comet II. These prestigious grassroots championships were held alongside the NAF Five Star Winter Dressage Championships at Hartpury College, Gloucestershire from 15th – 19th April 2015.
Riding Comet II, a 16-year-old gelding, owned by Amanda Royle, Comet II impressed the judges who awarded the combination a winning score of 69.09% in the Petplan Equine Area Festival Medium Restricted Championship from among 27 horse and rider combinations.
Wiltshire-based rider Abbie Newbury, who turned sixteen last week, topped the table of 27 national finalists in the Petplan Equine Area Festival Medium Restricted Championship. Abbie, riding Amanda Royle's Comet II, a charismatic 13-year-old KWPN gelding by Come Back II, scored an impressive 69.09% to edge ahead of second-placed Laura Jenkyn and Bakkegardens Alonso.
Abbie told British Dressage: "It feels amazing to do so well, and it's a very nice surprise as I wasn't expecting it at all!"
Trained by Sam Rahmatalla, the combination came together two years ago. "His owner, Amanda, had ridden him then he had a year off before I took on the ride so we started afresh," explained Abbie. "He's very nice to train and generally tries hard. I aim to take him to the Junior Viewing days at the end of this year."
Abbie is taking her GCSEs this year, so has a slick routine in place to allow her time to train. "I'm going to do A levels, then focus on riding. Dressage is what I want to do long-term."
Now in their 16th year, the Petplan Equine Area Festivals give riders across the levels from Prelim to Intermediate I the chance to experience the thrill of competing in true championship conditions, in a relaxed and friendly environment. More than 3,680 (an increase of 32% on last year's series) grassroots dressage riders from all over the UK competed at 19 Petplan Equine Area Festivals across the country from July to November 2014, for a chance to qualify and compete for one of the coveted titles.
British Dressage's Chief Executive Jason Brautigam said: "Since taking up the reins at British Dressage, I have been impressed with the success and popularity of the Petplan Equine Area Festivals series, which is most definitely one of the jewels in our calendar. Thanks to Petplan Equine's on-going support of these championships, which goes above and beyond their sponsorship contribution, the series has seen a staggering 32% increase in participation year on year and next year we are adding a further three venues to the series."
Charlotte Collyer, Senior Marketing Executive at Petplan Equine, added: "We are delighted to see how important the Area Festivals have become to amateur and aspiring dressage riders. Not only have we witnessed a meteoric rise in the number of combinations competing over the past year, with the introduction last year of Intermediate I classes, the popularity is clearly matched by the rising talent at grass roots level. We are delighted to be part of a series which provides the perfect showcase and celebrates the talent that is out there. We would especially like to congratulate Abbie Newbury on her fantastic win and wish her the very best of luck for the future."
Further information about the Petplan Area Festivals and how to qualify for next year's finals is available from the Petplan Equine website at: www.petplanequine.co.uk/area-festivals/area-festivals.asp.
For more information please contact:
Petplan Equine offers comprehensive insurance cover for horses and ponies aged from 30 days. Established 25 years ago, Petplan Equine understands the evolving equestrian market and strives to enhance knowledge and understanding of the equine world through employing horse enthusiasts and working closely with the equine industry.
Petplan Equine is part of the Petplan brand. Founded in 1976, Petplan is the UK's largest pet insurance provider, offering comprehensive cover for dogs, cats, rabbits and horses.
Note to editors:
Media enquiries: for further information, please contact:
Andrea Worrall at The GPC by email: [email protected] t: (01608) 654040