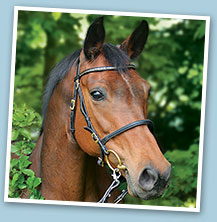 Press room
2017 press releases
Posted: 20/04/17
DORSET DRESSAGE RIDER
PETPLAN EQUINE AREA FESTIVALS CHAMPION
Natasha Rumble from Gillingham Dorset has won the Petplan Equine Elementary Bronze Championship at the Petplan Equine Area Festival Championships on Westcroft Dragonfly. After qualification in Autumn 2016 the pair spent the winter preparing for this prestigious event held at Hartpury College, Gloucestershire from 12 - 16 April 2017.
Westcroft Dragonfly is a 17hh, 9 year-old gelding sired by Glocks Voice owned by Liz Rawlingson and ridden by Natasha Rumble. The partnership clearly impressed the judges achieving a combination winning score of 69.20%.
Gillingham-based rider Natasha Rumble said, "It feels amazing and also is a massive relief. It's a big team effort so this was a real reward for everyone at the yard". Talking about 'Fly', Natasha said, "He's a lovely horse with phenomenal, naturally uphill movement and has been a joy to work with." This win secured Natasha her first ever national dressage title; she was joined for the occasion by owner Liz and trainer Tracey Collins as part of her support crew.
Petplan Equine, one of the UK's specialist horse insurance providers, has sponsored the Area Festivals for 18 years and is looking to the future with an even bigger competition for 2017/18. 27 Area Festivals will take place from which qualification for eight Area Festival Finals can be achieved. The top horse and rider combinations from the Finals will then go on to compete in the Area Festival Championships at Hartpury College, Gloucestershire in April 2018. In addition there will be a dedicated competition for under-18 riders.
"Working with British Dressage to develop the new look Petplan Equine Area Festivals for 2017/18 has been very exciting," commented Kate Hopkins, Marketing Executive at Petplan Equine. "The Area Festivals have been a huge success and we want as many riders as possible to experience the thrill of competing in championship-style conditions, so we are encouraging all grassroots riders to aim for the stars! We would especially like to congratulate Natasha and Westcroft Dragonfly on their fantastic win and wish her the very best of luck for the future."
British Dressage's Chief Executive Jason Brautigam said: "I am so impressed with the level of participation in the Petplan Equine Area Festivals series. This amounts to an astounding almost 50% of all British Dressage members qualifying to take part in the series, which is something to be applauded. Next season will herald a new chapter for this dressage favourite. The new format is the result of a great deal of planning and member consultation to arrive at a series within reach for so many more riders."
Further information about the Petplan Equine Area Festivals and how to qualify for next year's finals is available from the Petplan Equine website at: www.petplanequine.co.uk/area-festivals/
ENDS
---
EDITORS NOTES
Petplan Equine offers comprehensive insurance cover for horses and ponies aged from 30 days old. Established over 25 years ago, Petplan Equine understands the evolving equestrian market and strives to enhance knowledge and understanding of the equine world through employing horse enthusiasts and working closely with the equine industry.
Petplan Equine is part of the Petplan brand. Founded in 1976, Petplan is the UK's largest pet insurance provider, offering comprehensive cover for dogs, cats, rabbits and horses.
For further information visit www.petplanequine.co.uk/ambassadors
For more information on Petplan Equine visit www.petplanequine.co.uk
Follow Petplan Equine on social media:
Facebook www.facebook.com/PetplanEquineUK
Twitter @PetplanEquine
YouTube www.youtube.com/user/PetplanUK
Petplan Equine enquiries: for further information, please contact:
Kate Hopkins at Petplan Equine by email kate.hopkins@allianz.co.uk or call 0208 707 8335
Petplan Equine Media enquiries: for further information, please contact:
Bridget Jennings or Amy Garland at JB Promotions by email: petplan-equine@jbpromotions.co.uk or call 01458 250 200