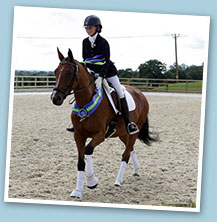 Petplan Equine Area Festivals Awards 2019
Petplan Equine have been sponsoring the Petplan Equine Area Festivals for the past 20 years. To celebrate the 20th Anniversary, we launched the Petplan Equine Area Festival Awards, to hear all your stories and experiences of the Petplan Equine Area Festivals. These awards recognise and celebrate the hard work and dedication of the dressage partnerships that have been competing in the Petplan Equine Area Festivals in the last 20 years.
Meet the winners!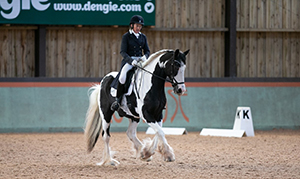 Inspirational Star – Frodo and Sue
When Sue first heard about the Petplan Equine Area Festival Awards, she was unsure what category to nominate her traditional gypsy cob Frodo for, "I felt he fitted into more than one of the categories," explains Sue. "He started his dressage career around ten years ago and has competed at every level of the Petplan Equine Area Festivals since and he isn't your usual dressage type, so there were two categories which he was perfect for," she adds. "However, knowing he has inspired so many other cob owners to get involved in dressage I felt he was just perfect for the Inspirational Star category."
Frodo is 18 years old and Sue currently competes the 15.2hh Piebald gelding at Intermediate I, "Frodo and I have been together for a long time," she begins. "I first met him aged four when I ran a livery yard. When I decided to move north to Forres in the North of Scotland, he made the move with me. He had never done any dressage before but the horse I was riding at the time was off work and I wanted to get out and meet new people in the area I had just moved to, so I decided to take Frodo out to a few competitions. He had some natural talent and a wilingness to learn and the rest as they say is history."
"Frodo has an absolute heart of gold and a lovely temperament. He is the most genuine horse I have ever come across and if I ask him to step up his game, he puts everything he has into producing a beautiful test. He only has one quirk and that is his hatred of Water Buffalo," Sue laughs. "Which can prove problematic as he has to walk past a herd of them if we want to go out hacking. I have had to box him up and drive half a mile down the road past the field just to go out for a hack."
Frodo's dressage journey has not been the smoothest, as Sue explains, "around four years ago Frodo had a severe case of laminitis. We didn't know if he would ever be sound again, let alone be able to get him back out in the dressage arena. It was such a worrying time. He had to endure six months box rest, which he didn't complain about once. I could leave his stable door open and not have to worry about him barging his way out. We then had to walk him in hand and after a long year off work, he started his comeback."
Before his laminitis, Sue and Frodo had just started competing at Advanced Medium level, "when he came back into work all I hoped for was that he would be sound and comfortable," comments Sue. "Never did I imagine that once fully back in work he would pick up from where he had left off and progress as he has up to Intermediate!"
"At every level we have competed at I have wondered if that would be as far as he could progress as I am very conscious that he has to work twice as hard in order to perform the more advanced movements as they don't come naturally to him and he really does put in 100% effort every time. He has inspired many other cob owners to believe training a cob up through the levels is possible. In 2014 he was at the British Dressage Summer Nationals competing at Medium level and I was amazed how many strangers came up to meet Frodo after our test, he has quite a fan club.
"I am very aware that Frodo is now 18 years old and not quite a spring chicken anymore, but I thought why not give Intermediate a go, he owes me absolutely nothing. He has been my inspiration and I will let him decide when he is ready to slow down," concludes Sue.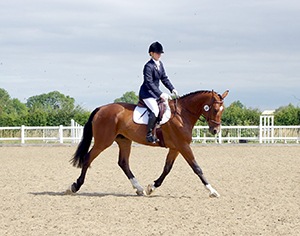 Progressive star – Crunchie and Clare
Clare has progressed through the levels of the Petplan Equine Area Festivals with her 13 year old Oldenberg gelding, Cascento (Crunchie), from Preliminary to Prix St.Georges (PSG). Clare balances a busy work schedule as a veterinary surgeon for the People's Dispensary for Sick Animals (PDSA) with riding and competing Crunchie and her nine year old gelding, Flair Berlin Des Vallees. She bought both horses as unbroken two and three year olds and has backed and produced them both herself despite having no prior experience.
Clare bought her "dancing partner", Crunchie, with the intention of eventing him. "Crunchie had a few good results at the start of his eventing career," begins Clare. Including a second place finish at a BE90 but I soon realised he was just too spooky to be an eventer. He would approach the fence sideways because he was too busy looking at everything going on around him. I remember heading to a competition when Crunchie was about seven and after retiring at fence four, my friend said, 'why are you trying to event. Give dressage a go, he moves nicely.' I thought long and hard about it and decided to try the discipline and we've not looked back since," comments Clare.
"Crunchie isn't much of a horse for cuddles and can appear a bit stand-offish towards people he doesn't know but once he gets to know you, he will want to be near you all the time. He is also famous for his big floppy bottom lip," explains Clare.
"Before Crunchie and I started concentrating on pure dressage, I had never ridden above Novice level. Since then we have gone from competing at Prelim to Advanced level, with three regional titles, seven trips to the British Dressage National Championships and I have represented my region and England at five Home Internationals. My friend was the one who told me I should nominate myself for the Petplan Equine Area Festival Awards because the Area Festivals is where our dressage career started and since 2011, we have worked our way through the levels. The Area Festivals gave us our very first experience of a top event and after our first visit to the Championships in 2012 I knew it was definitely something I wanted to be a part of. It's great because you are competing with other amateur riders at the same level and everyone is so welcoming and friendly. My first Championship made me so determined to qualify and get back there again in the following years."
Crunchie and Clare's Area Festival highlights include; coming third at their first Petplan Equine Area Festival in 2011, competing at their first Area Festival Championship in 2012. First in their Novice Area Festival in 2013, finishing in second place in the Medium at Manor Grange Area Festival in 2015. Wild Card entry at Medium to the Championships in 2016 and qualifying at PSG this year. "We did our first Intermediate I a few weeks ago which was closely followed by another successful outing. I am thrilled because we managed to qualify with one day to spare for the Intermediate I and will be heading to an Area Festival Final at both PSG and Intermediate I level. My ultimate dream is to get to Grand Prix!" exclaims Clare.
Clare and her two horses are based at a DIY livery yard on a local farm. She starts her day at 4:30am and alternates riding her two horses before heading to work for 8:00am. "I don't have any fancy facilities and when the weather allows, I have a grass field to school in. My holidays are used for lessons and competitions and the boys normally have time off in winter due to the shorter days. I don't have deep pockets but I think all you need is passion, determination, hard work and great trainers," laughs Clare. I love my sport and the Petplan Equine Area Festivals have been a perfect way to pursue my goals with Crunchie," Clare concludes.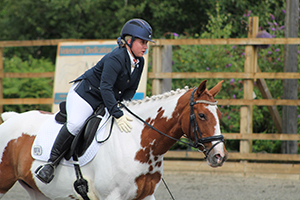 Perseverance star – Teddy and Linda
Linda was delighted when she found out she had won the Petplan Equine Area Festival Perseverance Star award as she had no idea her husband, Ben, had nominated her and Irish Sports Horse, Tankmore Boy (Teddy). Described by her husband as the 'embodiment of hard work and dedication', Linda has had a testing few years with Teddy but through sheer determination the pair have recently qualified for an Area Festival Final and are looking forward to stepping up to Novice level.
Linda and Teddy have been a partnership for the past four years, following Linda's decision to get back into competing after an eight year break. "Teddy was a bit of 'mid-life crisis purchase," laughs Linda. "I decided after a break from competing that I wanted to buy a sports horse to bring on and get back out again. I bought Teddy when he was four and with the help of some excellent trainers, I have produced him myself. We decided to give dressage a go and took part in our first Area Festival in 2017," explains Linda.
"Teddy and I have had our fair share of ups and downs," adds Linda. The year we first qualified for an Area Festival we didn't do so well in our class and I left the competition in floods of tears because it felt like the hard work and effort put in was not truly shown when we were in the arena, it really knocked my confidence. Not long after this Ted was found to have quite severe Gastric Ulcers and so had time off to recover. Once I was back in the saddle, we manged to qualify for another Area Festival. Unfortunately, I put a lot of pressure on myself and almost forgot how to ride during my test having warmed up beautifully and we left the competition feeling quite down."
Not long after their second attempt at an Area Festival it was evident that Teddy needed a tooth removing, which again saw the pair have a further two months off work. "I decided after that to have a bit of a transformation," admits Linda. "So, I invested in lessons with a new instructor, one who was riding at Grand Prix level. We were really starting to see some results when one day, not long after his lesson he became lame. He was in so much pain he could barely stand!" exclaims Linda. We initially thought he had somehow broken his Pedal Bone, thankfully it was just an abscess, but he needed nearly two months off afterwards to recover."
Linda still had the dream of competing at an Area Festival firmly in her sights. Following Teddy's slow recovery, the pair manged to qualify for the 2019 Pachesham Area Festival where they came seventh and qualified for an Area Festival Final. "I think I cried throughout the presentation, I was so happy to have been placed and to be heading to an Area Festival Final. I am so proud of Teddy," beams Linda.
"I can't thank Ben enough for nominating me. He is so supportive and drives Teddy and I to our competitions, he is our number one supporter," comments Linda. "He is, however, annoyed that I didn't nominate him for the Support Star Award," laughs Linda.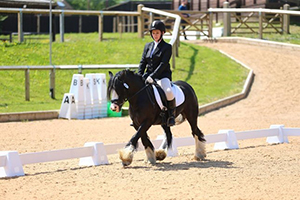 Surprise Star – Mimi and Caroline
"Mimi's advances in dressage have been quite unexpected and she is a real joy to work with," begins Caroline. "She was originally meant to be a companion for another horse after our Shetland died but she became very attached to me, so I decided to back her and since then she has just gone from strength to strength."
"I rescued Mimi when she was about a year old after she was saved by the RSPCA from an owner who had severely neglected her and the other horses that she was found amongst. When she was brought into the RSPCA rehoming centre she was covered in lice, had Strangles and was terribly malnourished," explains Caroline. "I paid £100 for her and she came home with us to live as a companion pony. She arrived with no information other than a name, so after her consultation with the vet they think she was foaled in 2013. We have decided to have her birthday around the same time as my daughter's, as they are a similar age."
"The vet that first attended to Mimi when she was rescued by the RSPCA was based with our vets at the Liphook Veterinary Practice, so it was a lovely surprise for him to see her at our yard when he came to look at another horse. She was definitely looking somewhat better than she had done previously."
Mimi became very attached to Caroline, so she made the decision to back her and bring her on under saddle when Mimi was four. "I had never backed a horse before, so I took it slowly with my mum's help. She was so well behaved and a lovely mare to work with throughout the whole process," adds Caroline. I decided it would be a good idea to take her to an unaffiliated dressage competition to see how she would behave in that environment. To my amazement she was placed within the top ten and that's where it all began!" exclaims Caroline.
"That was just over two years ago and last year we decided to have a go at affiliated dressage. I knew the Petplan Equine Area Festivals would give us a goal to work towards, so once I knew I had my scores to qualify for the Area Festivals, we wasted no time preparing. Mimi and I thoroughly enjoyed ourselves at our first Area Festival at Pachesham Equestrian Centre. We didn't get into the top ten but that hasn't put me off. She is only six and I know we have all the time in the world to progress further."
"I am just proud to have reached this milestone with a £100 pony, who's fate could have been so different. I think our story is a great inspiration for cobs and rescue horses that you don't have to spend a fortune on a horse to be successful," concludes Caroline.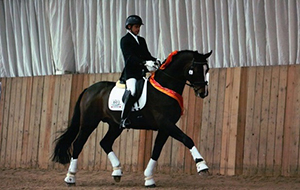 Support Star – Brendan
Brendan received a tremendous amount of praise and several nominations throughout the duration of the Awards. Competing up to Prix St. Georges (PSG) himself, he also trains a number of Area Festival riders. Described as being 'consistent, confident and correct', Brendan dedicates his time to helping his clients improve their riding and their mindset.
Brendan, who is based in West Wales, recently attended the Beacons Equestrian Area Festival to help warm up a total of 17 of his clients, "the Area Festivals are great," begins Brendan. "They allow everyone an equal opportunity to compete at a Championship, something that many people feel isn't possible."
One client who nominated him for the Support Star award commented, "Brendan will never let me put myself down and is always genuinely happy when I have performed a movement correctly and have improved. He takes the time to really explain things and always makes the effort to talk me through our session afterwards, no matter how busy he is or how late it might be."
Brendan started his education in horses when he helped his mum run a rescue and rehoming charity when he was younger and it was clear from the nominations that he loves what he does. "I have evented and showjumped in the past, but I love the mechanics of dressage," he continues. "I like taking the time to teach the horse the different elements and movements."
Brendan also doesn't just work hard to improve his clients riding but also their mindset, with one entry commenting that he is always there to support them after a bad day and is willing to talk them through a tricky test. "It's how you deal with issues that matters, not your score at the end," he remarks.
After spending all day at the Beacons Area Festival supporting riders, Brendan competed in the Advanced Medium. "He spent 12 hours at the Area Festival on both days warming up and helping riders. He was there from seven in the morning and then competed himself on Saturday night and won his class. He is such an inspiration," comments one client.
Brendan also rides and competes his client's horses. "Brendan has ridden my horse up through the levels and has loved him as if he was his own. He is dedicated to the sport not only to improve his own riding skills but has helped and supported many others too. This is why l wanted to nominate him because of his dedication to help others achieve their dreams and goals in our sport," said one of the entries.
Commenting on his Award win Brendan comments, "I had no idea that I had been nominated, I really appreciate the recognition. I normally keep to myself and try to encourage my clients as much as possible. I am pleased to have a good number of riders heading to the Championships each year and I feel very proud that I have helped prepare them. I enjoy warming up each rider and I feel it is the least I can do if they have dedicated their time learning the basics and putting the hard work in to reach that level."