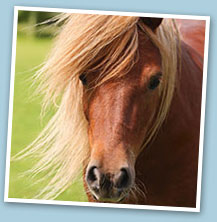 Monthly diary — December
Lucinda Green
I have always loved Africa so when I was asked to lead a horse safari in Wait a Little, South Africa, I jumped at the chance. I have ridden in Kenya but South Africa was very different – much more closed bush so by the time you spot a lion, it's right upon you. It was wonderful and the horses beautiful.
From there I was invited to spend a few days in Botswana with Antoinette McKeown, and the Funnells who were on safari in the Okavango Delta. Two of the funniest days I've had in a long time followed. All I can say is that fancy dress, when worn in the bush, hits a whole new level of entertainment…
Then it was onto friends in Zimbabwe. It was very bizarre to ride to the airstrip, dismount and board the tiny plane – before spending the journey with my head in a sick bag. Seeing Victoria Falls and riding along the River Zambezi was well worth it though.
I then had to earn my keep teaching some clinics before returning home. I'd laid careful plans to go straight out hunting on Bill – having landed at 6.25am, we made the Meet at 11am and enjoyed a great day jumping lots of big hedges. Bill was on fine form, thanks to Sarah's care, despite his best efforts to the contrary. The new catching pen was successful only briefly – in the end she had to resort to pretending to go home by sitting in her car and starting it, before he'd go in. Only then could she sneak round and corner him – he's just
so naughty.