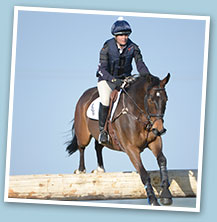 Petplan Masterclass with Lucinda
The Petplan XC Masterclass aims to give both horses and riders a confidence boost as well as helping them sharpen their reaction so they can enjoy safer, more fun XC riding experiences.
The clinics are suitable for a range of levels: from those who are regularly a minimum of 70cm to BE Novice riders. Each clinic is designed to develop mutual confidence for the horse and rider. They encourage the horse to think for himself while still listening to his rider.
On the day
The two hour session will start with small steering, focusing and footwork XC exercises. This helps to develop communication and confidence for both horse and rider before taking on XC courses.
Lucinda takes time to make sure each horse and rider feels confident and happy with what is being asked before moving onto more difficult challenges.
Usually there will be four groups with five or six horse and rider combinations grouped according to their level. Riders should be a minimum of 13 years of age and there is no upper age limit…
And a one day Masterclass is £90 per horse and rider combination and £80 for Petplan Equine customers.