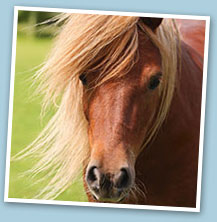 Monthly diary — June
Lucinda Green
Recently I was talking with a group of top riders and found they were universally echoing one of my rising concerns. They were all agreed that our cross-country courses are becoming too easy, especially at the lower levels.
Not enough questions are being asked of horses from early on so they learn their jobs well. Courses need fences on flat ground that the horses can run, jump and smile over, but there must be bounces, uprights and drops too as part of the test. Currently many horses do not meet more challenging obstacles, using different terrain, until a good way through their training and then they are asked too many questions at once. This has been clear at several events where even advanced horses were failing to confidently tackle bounces into water – simply because they hadn't seen many bounces before, let alone with water. I have found the same with Cry Freedom. Venues are so scared of accidents they have stopped including trickier fences but this will only increase the dangers as there is little chance to gain invaluable experience before meeting really big questions further up the ranks. We must ensure a rounded and phased education for our horses and riders.
On a positive note, Bill is continuing to delight me. We went to the Novice at Chatsworth before going to the Open Novice at Mattingley. Last season, at these events Bill had been spooky and laboured, to the point where I withdrew from Mattingley. What a difference this year – he made Chatsworth feel small and flew Mattingley to come fourth.
In addition, I have been working with Petplan Equine on an exciting new website
www.yourstables.co.uk
a site that offers visitors the chance to 'walk through' a virtual yard, with each area packed with helpful horsecare information. It is amazing what can be done with computers – more on this next month…