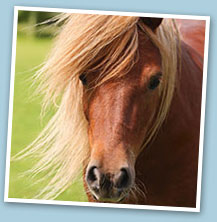 Monthly diary — May
Lucinda Green
Bill has finally achieved his first win – the Novice at Larkhill. He found the cross-country well within himself but was spooky in the showjumping. After taking a dislike to a 'sun' fence, he jumped it from a standstill before going clear.
Then I headed to the US to teach before enjoying three days at Rolex Kentucky. I thought the course looked difficult but it proved quite do-able with ten inside the time. The British boys and girls went really well, especially as for several of them it was their horse's first 4* - they all came in the first 12. It was also exciting to see the preparations for the World Equestrian Games 2010 which take place in Kentucky in September – the new stands and indoor arena are just amazing.
Back at home Cry Freedom had been busy with Jo Aston. She had taken him to both Burnham Market and Belton Advanced. At the latter she tried out some new tactics for the showjumping which resulted in just one down.
Then it was time to collect a new horse – while my daughter Lissa was in Australia she bought Crackberry, a 15.2hh eight-year-old ex-racing TB. After a month in quarantine with Shane Rose we could finally pick him up from Stanstead. He's a very sensitive type but absolutely sweet. Lissa and he spent three weeks working together with the help of his previous rider before leaving Australia, which has given them a great start. He has masses of talent but Lissa now needs to learn how to unlock it.
It will be fun and interesting to watch them develop.