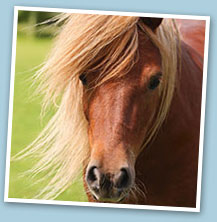 Monthly diary — May
Lucinda Green
Like many people, my month has not gone as planned due to the disruption of flights – having taught clinics in the US, I've been stranded for a week. As a result Bill and I missed competing at Withington Manor – the second competition we've had to ditch. Firstly, Bill stood on something sharp and had to have a few days off, instead of going to South of England, then this.
It's a shame as we haven't been out since Bill's best ever performance at the Intermediate at Gatcombe. He was lying an unbelievable 3rd after the dressage and finished 4th overall, with two brilliant clear rounds and NO spooking.
Bill's physio came to check him after Gatcombe and announced he was in better shape than me and to get my wrist xrayed. The radius was broken clean through from my fall three weeks earlier (see April diary) so it was three weeks in plaster for me.
Being stuck in the US, I headed to Rolex Kentucky – there was a field of 53 including our riders who somehow managed to make it, although several judges and the technical delegate didn't.
William Fox-Pitt aboard Cool Mountain, did Britain proud with a sympathetic but winning performance for this 10-year-old's first really big question. Oliver Townend sadly had a less successful weekend, with a bad fall from Ashdale Cruise Master resulting in cracked ribs, collar bone and sternum, and leaving him unable to show jump his second horse who was lying 7th.
Now, I finally made it back from Kentucky and I'm off to Badminton - very exciting.