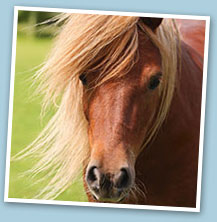 Monthly diary — January
Lucinda Green
Once again I was lucky enough to end the year in Africa, leading a riding safari across the Kalhari Desert. Then I flew onto Zimbabwe to visit friends and enjoy a walking safari. While I was away, Bill remained with my friend Jo, hunting with The Mendip Farmers.
On my return, another friend spent several weeks trying to persuade me to let a 14-year-old girl she knew try Bill. I wasn't terribly convinced but finally agreed – and she rode him beautifully and laughed at his spooks from the start. Bill looked a million dollars and she loved him so I agreed to let him go. He'll be hunting and eventing and we're in regular touch so I look forward to seeing how they fare.
I will now look out for a four or five-year-old to hopefully bring up the ranks. However, I'm in no hurry as, although my arm is nearly recovered, commentating for all things equestrian in the Olympics will take some commitment. It will also have to be the right horse who can cope with my lifestyle – I'm away so often, it needs to deal with having time off and then being worked again.
As you read this, Lissa is in Ireland showjumping and I'm in Australia teaching, but this time I have a couple of extra dates booked in New Zealand that I'm very excited about. I'm doing two demos with Dr Andrew McLean, the most extraordinary understander of horses and leading behaviour and training expert.
I had always wanted to meet him and finally did last year and gradually the idea of a joint demo came together. Watch this space…