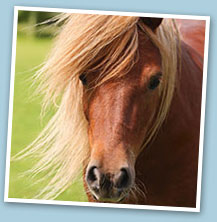 Monthly diary — July
Lucinda Green
Danny has indeed broken his withers after rearing over while loading – fortunately he should recover. Meanwhile, Lissa and her borrowed Pre Novice Cristal are learning plenty at Sarah Cohen's, and working with her youngsters.
Then a blast from the past. Cry Freedom (see 2007 diaries) is back. He's totally opposite to Bill – a scrawny TB who goes everywhere full tilt. We'd risen from Pre Novice to 3* during six years together. A lack of time dictated I passed him on to a friend to compete. All was well until he had last year off due to injury. Back in work, he's even loonier and his rider didn't gel with him as before. CF becomes so het up he develops ulcers – fortunately these are being sorted with Gastroguard.
I took both horses to Barbury – Bill to the 2* and CF to defuse him. It was blowing a gale. First Bill cannoned sideways narrowly missing William Fox-Pitt as he exited the dressage arena. Once in, we only ever achieved two strides before coming across another flapping flowerpot. We scored a degrading 69, but he redeemed himself with good showjumping and cross-country rounds, although he spooked and nearly missed an easy roll top, just to keep me on my toes. The key result was him trotting up sound afterwards, following his knee problems.
Next I took Bill showjumping and rode my biggest ever course – 1.30m. I refused to walk the course as I knew I'd bottle out, but Bill did fantastically.
Then on to Aston advanced. Bill wasn't the fastest but posted his second, more confident, double clear. CF and I popped half the course to reconnect. It was great to be taken into fences and, thanks to a clever noseband contraption dreamt up by Rodney Powell, I even had brakes.