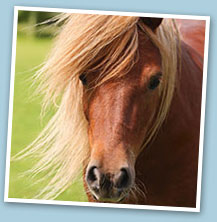 Monthly diary — April
Lucinda Green
Rain, rain, rain. Even Tweseldown, which is never cancelled, was.
My clinic in Hungerford went ahead only due to chalky ground and the refreshing views of our host, Russ Hardy, who simply said 'horses still need to be got out and the ground will recover'. We had a great day.
Cry Freedom and I had a lesson with Spencer Wilson, a working pupil of mine years ago. He went on to train with Carl Hester and is now winning Grand Prix in his own right. I love the joy that Carl instills in his horses - he makes it easy for them to do what he wants and Spencer is the same. We worked on 'long and low' and it was a lesson where things just 'clicked'. Having a genuine feeling of how to connect up a horse through hand and leg has somehow always defeated me - I learned how to achieve more depth by taking my hands wider and lower. Bill, my young hunter, has had physiotherapy so is less 'squashed up'. He's doing a little schooling - after one good session I hopped off to give him a Polo and as I remounted my spur caught a chain on the fence. The noise sent Bill off like a bronco and fired me into the air. It hurt..
He's certainly sharp - I just need that working for me.