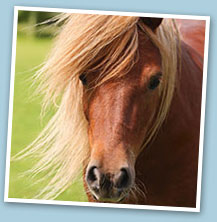 Monthly diary — April
Lucinda Green
I said Bill has to prove himself this year and I'm delighted that in his first few outings he seems to be doing just that.
He has been the spookiest horse I have ever sat on, but he is fascinating - I've always felt there is a brave horse in there. He found the Pre-Novice at Aldon easy and he did his very best in all three phases and not one spook. This continued at a hunter trial and then a team chase. At the latter, when our captain ran down the hedge, Bill opted not to follow and jumped it. I'm hoping this is not just a flash in the pan and he is really growing up. And thanks to the great work done by Justin Clubley, who cares for him when I am away teaching, he's fitter than he has ever been. Our next outing is the Novice at Gatcombe.
While doing Petplan XC clinics, it has been apparent that several courses have spent plenty on beautiful new fences. Unfortunately these are nearly all roll tops and roof tops. This is of huge concern to me. People and horses cannot learn to jump properly over fences they can literally roll over. While I understand why this has been done – the soft profiles are better for rider safety and the fences can be moved about easily – I do not agree with it.
We will have more falls as more people lose the opportunity to learn the skills needed to set up and ride to a fence.